Brazil's Azul notched record fourth-quarter 2022 revenue as passenger travel demand remained strong and cargo continued booming.
The Sao Paulo-headquartered company said on 6 March that its fourth-quarter revenue reached R$4.5 billion ($870 million), 19.4% more than during the same quarter of 2021, and 37% above pre-pandemic levels in the same period.
For the full-year 2022, operating revenue totalled R$15.9 billion, up almost 60% over 2021 and 39% above 2019, Azul says.
It says the fourth-quarter and full-year revenue figures were both "records".
Profit during the final three months of 2022 came in at R$231 million, compared to a R$946 million loss in the same quarter a year earlier.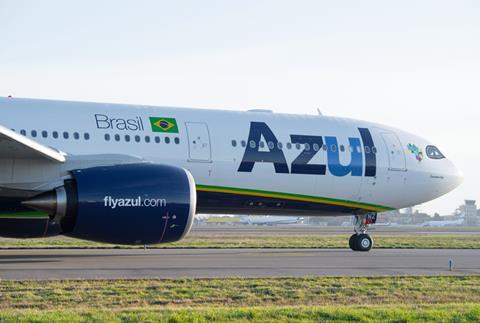 "Our business is doing incredibly well," chief executive John Rodgerson says during the company's fourth-quarter earnings call. "There's a lot of runway. Unemployment is [at an] all-time low. We feel good about the macro-economic environment [for] the first time in quite a few years."
Azul's operating expenses rose to R$3.9 billion during the quarter that ended on 31 December, up from R$3.2 billion in the fourth quarter of 2021, primarily driven by a 42.5% rise in fuel prices and a more-than 10% increase in capacity, Azul says.
Cargo revenue more than doubled from the fourth quarter in pre-pandemic 2019, "driven by strong domestic demand for our logistics solutions and our exclusive network". For the full year, revenue from the company's logistics business came in at R$1.35 billion, up 16% from 2021.
The company ended 2022 with 177 aircraft in its fleet, up from 161 at the end of 2021.
Looking ahead to 2023, Rodgerson says the company is "encouraged by the strong demand environment and important milestones in our route network". Azul is targeting full-year revenue of R$20 billion, he adds. The airline also plans to more than double its operations at Sao Paulo's Congonhas airport beginning on 27 March, to 84 daily flights – a move catering to corporate travellers.
"The industry will grow 8-10% above 2019 levels, which is pretty decent overall," adds Abhi Shah, Azuls' chief revenue officer. "We will [increase business] about 6-8% domestically. Everybody is being pretty disciplined. All airlines want to recover the profitability that we lost over the last couple of years."
About 85% of corporate business travel has returned following the global health crisis, he adds. "We are seeing great momentum and there is still some significant upside to come."
Azul's international capacity is also set to reach "full recovery in 2023", executives say, with the carrier adding flights to Paris and Curacao, and to the United States from Belo Horizonte, Recife, Manaus and Belem.
On 5 March, Azul said it had come to an agreement with lessors that represent more than 90% of its lease obligations, subject to certain conditions and applicable corporate approvals.
"Lessors represent 80% of our nominal gross debt," says Alex Malfitani, the company's chief financial officer. "Reaching these agreements demonstrates tremendous success in our approach. No aircraft have left the fleet throughout this negotiation, and in fact our partners have delivered 12 additional new aircraft to us over the past five months."