Embattled Hong Kong-carrier Cathay Pacific has warned its first half results for 2020 will be "significantly down" compared to the same period last year, as the outbreak of the coronavirus compounds an already challenging market.
In releasing its traffic figures for January, the Oneworld carrier also announced further capacity cuts across its network – for February and March. The carrier, along with its Cathay Dragon unit, will slash passenger capacity by 40%. This, the carrier notes, is an even deeper cut than the 30% capacity reduction it announced earlier this month.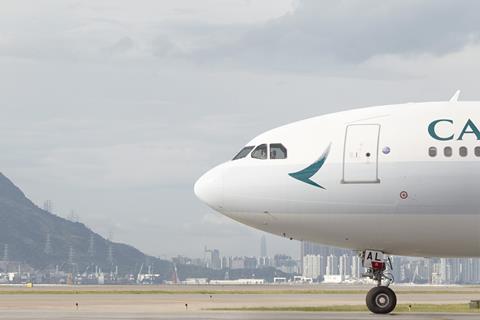 Cathay and Cathay Dragon combined carried just over 3 million passengers in January, a 3.8% decrease year-on-year. The carrier cut capacity as measured in ASKs by 0.3%, while traffic in terms of RPK fell 1.8%. As a result, passenger load factor for January fell by 1.3 percentage points to 84.7%.
Cathay Pacific Group chief customer and commercial officer Ronald Lam notes that while inbound traffic into the territory fell again, outbound traffic grew marginally.
Cathay inbound traffic fell 40% year-on-year, slightly better than the 46% seen in November and December. Traffic figures at the carrier had already been impacted by political unrest in Hong Kong, where pro-democracy protests have been raging since June.
Outbound traffic rose 1% in January. Lam says this was due to the earlier falling of the Chinese New Year holiday this year, which began at the end of January.
Cathay says yield and load factors for its long haul routes were improving at the start of January, only for the coronavirus outbreak to hit its performance.
"Our performance deteriorated rapidly in the last week of January as the novel coronavirus situation became more severe, and it continues to weaken significantly. We saw significant cancellation of bookings within a short period of time," says Lam.
While Hong Kong is the not at the epicentre of the coronavirus outbreak, travel restrictions imposed by some countries have also included Hong Kong. This, says Lam, led to a rise in cancelled bookings.
Since last year, Cathay has flagged a financially challenging first-half of 2020 amid the backdrop of local unrest. "The first half of 2020 was already expected to be extremely challenging financially. As a result of this additional significant drop in demand for flights and consequential capacity reduction caused by the novel coronavirus outbreak, the financial results for the first half of 2020 will be significantly down on the same period last year," Lam says.
In early February, the carrier said it had asked its staff to take unpaid leave in a bid to stave off the financial fallout from the virus outbreak.