A HSBC Global Research report believes profitability is imminent for Hong Kong-based Cathay Pacific, as the city looks set to continue easing onerous pandemic restrictions.
The report, issued 11 August, also raised its profit projection for Cathay, on the back of higher cargo yield and pent-up travel demand.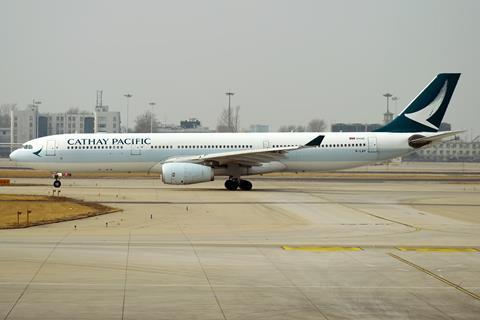 The prediction follows the carrier's release of half-year results, where it narrowed its operating loss despite a challenging start to the year.
HSBC believes that Cathay is "well-positioned" to tap into pent-up travel demand from Hong Kong, now that quarantine restrictions are easing.
"This [bodes] well for Cathay Pacific in the second half and we are pretty sure that [the airline] will have already turned profitable in July," the report states.
It notes that Cathay is "optimistic" of better financial performance in the second half, compared to the first half of the year. The airline has also seen forward passenger bookings increase through Christmas and New Year holidays.
HSBC also raised its earnings estimates for Cathay, projecting a full-year operating profit of around HK$7.9 billion ($1 billion). This compares to an older estimate of HK$4.3 billion in profits.
For the six months to 30 June, Cathay Pacific Group was $1.3 billion ($170 million) in the red, an improvement on the record HK$5.4 billion loss posted in the first half of 2021.
Group revenue rose 17% year on year to HK$18.5 billion, with the sharpest increase seen in passenger services, which leapt nearly three-fold to about HK$2.1 billion. Expenses fell 2.1% to HK$21.2 billion, with non-fuel costs falling 4.9%. Fuel-related expenses, however, rose nearly 55% year on year.