Delta Air Lines has priced $3.5 billion of five-year notes at 7% as it boosts its liquidity position to manage through the coronavirus pandemic.
The deal was upsized from the $1.5 billion originally announced on 22 April.
Collateral securing the notes comprises gates and routes for domestic slots at John F Kennedy International, New York's LaGuardia and Washington's Reagan National airport as well as slots at Heathrow and London, European and Latin American routes.
Concurrently with the notes, Delta also raised a new $1.5 billion credit facility.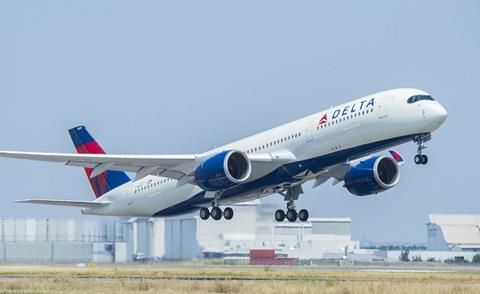 Delta announced its first quarterly loss in almost a decade on 22 April. The airline, which was burning through $100 million of cash per day at the end of March, disclosed an adjusted pre-tax loss of $422 million in the first quarter, $1.3 billion lower year-over-year due to the travel shutdown caused by the coronavirus pandemic.
On April 10, Fitch Ratings downgraded the Atlanta-based carrier, resulting in the company losing the coveted investment-grade rating it held since 2016.
At 31 March, Delta had $6 billion in liquidity. The closure of the notes offering and the credit facility would bring that total to over $10 billion.