EasyJet is set to make a group headline loss for the year ended 30 September of between £815-£845 million ($1-$1.1 billion) and expects to fly only a quarter of its planned capacity over the remainder of the calendar year as the pandemic continues to hit demand.
In a trading update today, the low-cost carrier said it made a headline loss in the range of £295-£325 million for the quarter, compared with a profit of £528 million for the same period in 2019. It is, however, slightly below the £332 million loss incurred in the third quarter, during which the airline was virtually grounded.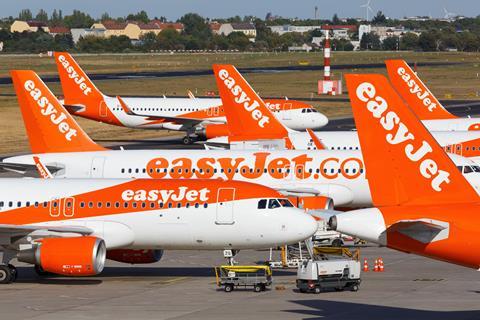 The loss reflects a 73% fall in revenues for the quarter, to £620 million, on passenger numbers down by two-thirds to 9.37 million.
During the fourth quarter EasyJet flew 38% of its planned capacity – the peak of which took place in August before travel restrictions hit demand in September.
EasyJet traffic statistics: July-September 2020
Jul
Aug
Sep
Jul-Sep
Number of flights

13,992

30,849

21,692

66,533

Peak operating aircraft

147

214

184

214

Passengers (000)

2,183

4,313

2,873

9,369

Seats flown (000)

2,601

5,664

4,013

12,277

% of planned capacity flown

24%

52%

39%

38%

Load factor 3

83.9%

76.1%

71.6%

76.3%

Source: EasyJet
"Based on current travel restrictions in the markets in which we operate, EasyJet expects to fly [circa] 25% of planned capacity for Q1 2021," the airline says.
"We will cover the majority of our pre-existing network with reduced frequency, taking advantage of the European slot waiver mechanism put in place for this winter to best match our capacity against the lower demand that currently exists. We remain focused on cash-generative flying over the winter season in order to minimise losses during the first half."
It says given continued uncertainty it is not issuing financial guidence for its financial year to come.
EasyJet chief executive Johan Lundgren says: "Throughout we have taken a very prudent and conservative approach to capacity and this disciplined approach has seen us deliver a better than expected cash-burn outcome in Q4 and will see us continue to focus on profitable flying over the winter season in order to minimise losses and cash burn during the first half of 2021.
The airline's cash burn in the fourth quarter is expected to be "less than £700 million" – compared with £774 million in the third quarter.
Lundgren adds: "Based on current travel restrictions we expect to fly [circa] 25% of planned capacity for Q1 2021 but we retain the flexibility to ramp up capacity quickly when we see demand return and early booking levels for summer '21 are in line with previous years."
Headline costs for the full year were cut 36%, largely reflecting lower capacity levels. The airline has also launched proposals to cut staff levels by up to 30%.
"The UK consultations with management and administration staff, UK cabin crew and UK pilots have now concluded successfully. Discussions with the relevant unions and works councils were constructive and have resulted in greatly increased seasonal and flexible working patterns whilst avoiding the need for compulsory redundancies," the airline says.
EasyJet says this will make a material difference to its annual cost base and cash burn, particularly over the winter months. "The targeted UK cost savings have been achieved, plus our future UK winter crew cost base has the ability to be flexed down materially in line with demand," it says, adding consultations are under way in Germany, Portugal and Switzerland.
The airline will incur a non-headline charge of around £120 million relating to restructuring.
Noting this will mark the first year in which EasyJet has posted a full-year loss, Lundgren again calls on government action to help aviation overcome what he calls the most severe threat it has faced in its history.
"The UK government urgently needs to step up with a bespoke package of measures to ensure airlines are able to support economic recovery when it comes," says Lundgren.
EasyJet passenger numbers for the year to October halved to 48 million. Load factor for the full year was down more than four points at 87.2%.