EasyJet is planning to make 418 crew in Germany redundant as it almost halves its fleet in Berlin amid the Covid-19 pandemic.
The UK low-cost carrier is withdrawing 16 of its 34 aircraft from its base in the German capital starting December, it disclosed today.
Having originally proposed 738 job losses among its 1,500 strong workforce in Germany, the airline has reduced the number after discussions with pilot and cabin-crew representatives.
The remaining 320 jobs will be kept until at least June 2021 using the government furlough scheme, at which point the airline will review whether those are again at risk of redundancy.
"Pending a hoped-for recovery of the current market situation next summer and further discussions on alternatives like part time, it will then be assessed if and how many of these positions can be maintained or need to be made redundant," says EasyJet.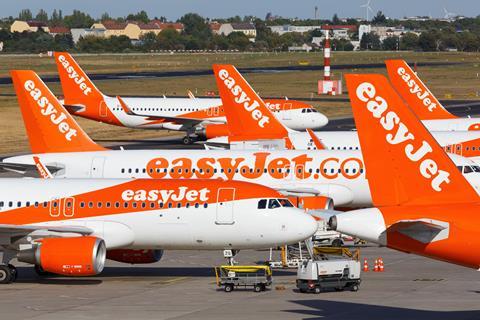 It says it aims to achieve the cuts mainly through voluntary redundancies. But if that cannot be achieved, then the airline will make compulsory redundancies.
"This regrettable staff reduction is no reflection of our employees in Berlin who have continued to work hard to provide a great service for our customers," it adds.
In the UK, EasyJet has managed to avoid compulsory redundancies after 1,500 staff agreed to part-time working.
Its staff in Germany and other countries are on local contracts, and therefore each country undergoes a different consultation process over job cuts.
EasyJet said on 8 October that it expected to make a group headline loss of £815-845 million ($1.06-1.1 billion) for the financial year to 30 September 2020 and that it would operate at only 25% of its previously planned capacity for the remaining three months of 2020.