Etihad Airways is ramping up its sustainability research and development efforts in a week-long programme that coincides with Earth Day on 22 April.
Among the initiatives, 20 commercial flights will test contrail-avoidance technologies as part of the Abu Dhabi-based carrier's partnership with UK firm SATAVIA. Under that relationship, Etihad had already committed to altering the flight paths of a service each week in 2022 in an effort to establish whether contrail avoidance can be achieved on a systematic basis.
Etihad claims that contrails cause up to 60% of aviation's total climate impact, although scientists suggest the effects are hard to quantify.
The carrier notes that "in contrast to many green aerospace initiatives", contrail-prevention software could be implemented in the near-term.
A further 13 dedicated 'EcoFlights' will test a range of "flight and engine optimisation initiatives" on Etihad Boeing 787 and Airbus A350 widebodies.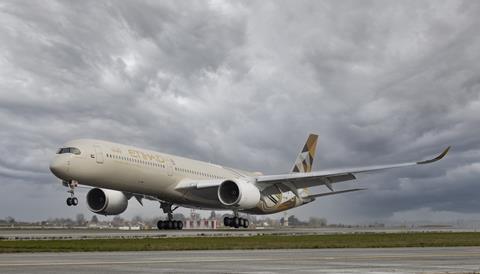 Those flights will "evaluate and confirm learnings from past EcoFlights for flight-path optimisation, including optimised climb and continuous descent, optimal departure runway, last-minute engine start-up, single engine taxi procedures… and fightdeck technology solutions", Etihad says.
Once "processed and validated", successful results will be "used as a base for improving the performance of the global airline community", the carrier states.
The annual Earth Day is marked globally and sees people encouraged to demonstrate their support for environmental protection.