With the European aviation market shaken and long-haul travel largely absent, it is the continent's low-cost carriers that are embracing the restart, driven by pent-up leisure and visiting-friends-and-family (VFR) demand.
Cirium data shows that between 17 and 22 July, Europe's budget airlines operated around 5,000 flights per day, against fewer than a thousand in the same period last month, although the new level is still well below the 14,000 or so flights of late July 2019.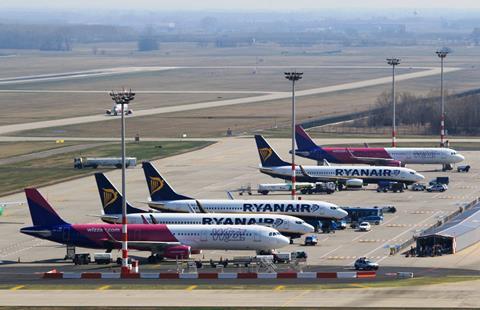 In comparison, mainline carriers operated just 4,000 flight per day. This is up from around 2,200 a month ago but compares with around 28,000 flights per day in the same period last year.
Accounting for over 500 of the daily low-cost flights is Wizz Air, which has moved quickly and decisively to return as much capacity to the market as possible.
Speaking on 22 July during the FIA Connect event, chief executive Jozsef Varadi highlighted that although the European airline industry as a whole had recovered to about 38% of last year's capacity as a whole, his airline was now flying at 77% of 2019 levels.
Andrew Lobbenberg, lead analyst for aviation at HSBC, sees this as being consistent with Wizz's reputation as one of the most sprightly operators in the European market, acting quickly and decisively when its see an opportunity it can exploit.
"For example, when [Vienna-based] Nikki went bust, Wizz were the first carrier into the space, with almost every European carrier competing," notes Lobbenberg. "Now they've got the biggest position of the entrants, and as it shakes out they'll be the ones who are going to stay there."
Similarly, after the collapse of Italy's Ernest Airlines in January, it took Wizz less than a week to announce a replacement for the cancelled services. "They're really sharp at just jumping on opportunities, and if it doesn't work they'll close them," says Lobbenberg.
In line with this approach, the carrier has framed the turmoil as a chance to grab market share.
Whereas most airlines are focused on renegotiating contracts and pressuring suppliers in a bid to minimise costs, Wizz have announced new bases at Bacau, Dortmund, Larnaca, Lviv, St Petersberg, Tirana and Milan Malpensa. Its 20 new routes from the latter airport bring the carrier into direct competition with rivals EasyJet and Ryanair.
In addition, Wizz announced nine new routes from Belgrade from the start of August, while plans for its new Abu Dhabi operation have been confirmed for October. In total, Wizz disclosed 64 new routes during June.
Explaining that uncertainties surrounding the operating environment are likely to persist, Varadi told the FIA Connect audience that the coronavirus crisis "will impose a challenge to the industry on how to be flexible on the situation; and if you have to adapt your network design and capacity plan, you should do that".
He added: "This is what we have been doing – we have been trimming capacity in our existing markets, but at the same time we have also created a new network of routes and operating bases in the same period, so we are opening six or seven new bases just as we speak."
The carrier said last month that even with the coronavirus, it expected to grow its capacity by roughly 9% this year.
LOWEST COST KEY IN COMPETITIVE BATTLE AHEAD
Of course, expansion into a shrinking market can only result in tougher competition, and while Ryanair's and Wizz's core markets remain focused on western and eastern Europe respectively, there is increasing overlap. Wizz's recent move into Milan Malpensa and Ryanair's expansion into Ukraine are just two examples where the players are facing each other head-on.
Each carrier markets itself as both the lowest-fare and lowest-cost airline in Europe.
"We all know that short-haul flying is a commodity business and in commodities the lowest cost prevails; and now we are the lowest-cost producer, so I think our competing position has just got better," says Varadi. "We have the scale, we have the capacity, the financial capacity, to actually benefit from [the Covid-19 disruption] and be one of the structural winners of the situation."
With its aggressive restart, Wizz overtook Ryanair in passengers numbers for the first time ever in June. But as a larger carrier, Ryanair has further capacity to ramp up in the months ahead, and Cirium data shows that in late July it is operating more daily flights.
In any case, there are key differences between how the two airlines operated pre-Covid-19.
Ryanair has been hamstrung by the Boeing 737 Max's unavailability, forcing the airline to become more thoughtful about how it deploys its fleet, notes HSBC's Lobbenberg. The unionisation process since 2017 have meanwhile raised unit costs and reduced flexibility and responsiveness. On the flip side, in the present circumstances Ryanair appears set to benefit from a significant change in the balance of power with both aircraft manufacturers and organised labour.
The airline has signaled caution about market prospects for the years ahead, estimating that passenger numbers will be below 100 million passengers in its full financial year, representing a 35% reduction on its previous target.
JLS Consulting director John Strickland notes: "Ryanair are never ones to miss an opportunity, but they are – as we saw in their last quarterly results – in discussions with Boeing about slowing down deliveries even if their plans were already impacted because of the Max grounding."
In comparison, "Wizz are moving ahead ambitiously, opening new bases across Europe and a new Abu Dhabi joint venture. They are showing more growth and testing out more new opportunities than even Ryanair at the moment", he explains.
EASYJET TARGETS BUSINESS OPPORTUNITY
While Wizz and Ryanair steel themselves for battle at one end of the low-cost market, EasyJet is adopting a defensive position at the other.
This includes shrinking its fleet and slashing payrolls in anticipation of a smaller aviation market through 2023. The UK carrier is also mulling a withdrawal from non-core routes as it looks to focus its operations on its key city pairs, reflecting a network that is designed around higher-frequency routes for corporate as well as leisure travellers.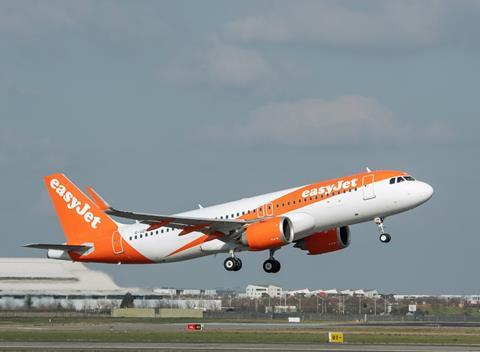 Peter Morris, chief economist with consultancy Ascend by Cirium, notes: "EasyJet has a significant business element, and it is these travellers that are happy to pay for the expensive EasyJet flights to somewhere like Geneva – they are still cheaper than BA or Swiss.
"EasyJet also put higher frequencies on their key routes, so again that meets a business requirement for flights that depart when they want them."
This gives the carrier a slightly premium positioning against competitors that often operate just one daily flight to their more obscure destinations.
Strickland believes EasyJet "will have to consolidate to airports where it maintains important number-one or -two positions. It doesn't have any other choice Ryanair and Wizz are still growing, and I would see both airlines being far more opportunistic in moving into new markets and bases."
The risk to EasyJet, with its higher cost base, is that an intense price war would enable Ryanair and Wizz to poach passengers eager to trade down to the cheapest fares.
EasyJet's position has not been helped by its own unique internal politics in recent months, most notably the conflict with founder Stelios Haji-Ioannou about a large Airbus order he wants cancelled.
Having absorbed significant resources and management focus already this year, the conflict threatens to flare up again ahead of an October break clause in the agreement that governs the carrier's royalty payments to Haji-Ioannou.
There are also ominous rumblings of labour discontent stoked by planned staff reductions. Chief operating officer Peter Bellew, who joined the firm from Ryanair earlier this year, has served as a lightning rod for union ire.
On the plus side, EasyJet has taken swift measures to strengthen its balance sheet, including a 15% equity raise that was backed by shareholders.
Investors are also positive about the potential of its much-anticipated holidays business, especially in light of the issues at TUI and the recent collapse of Thomas Cook, notes Lobbenberg. Unlike Ryanair and Wizz, EasyJet also has an established corporate traveller base of small and medium-sized businesses, "which faces a slower recovery than leisure and visiting friends and family, but is probably the best corporate travel profile to have in the current situation", in Lobbenberg's view.
IS THERE ENOUGH DEMAND?
EasyJet's key problem is the same one that all carriers are facing – the demand collapse caused by the deteriorating economic situation, widespread fear of infection, but government restrictions.
Yet as Ascend by Cirium's Peter Morris notes, all three low-cost carriers have strong cash reserves compared with their network peers, and so should be able to ride out this period.
Their positions are bolstered by nimble operating models which allow them to adjust their cost bases relatively quickly. "The network carriers have all sorts of processes for getting rid of pilots, etc… whereas low-cost airlines have a much more flexible approach with multiple bases in multiple countries, so they can flex their cost model up and down fairly rapidly without systemic consequences," says Morris.
Noting that low-cost carrier "are in the position that they have a cost of production that is significantly below the network carriers", Morris points out: "On that kind of argument, no airline wins – but the low-cost carriers lose to a lesser extent."
This analysis was written by Jonathan Robins, part of Cirium's London-based reporting team