US cargo carrier FedEx is investing more than $2 billion as part of an effort to achieve carbon-neutral operations across its global network in 20 years.
The Memphis, Tennessee-headquartered company says on 3 March it is focusing on three areas to achieve this goal: vehicle electrification, sustainable fuel and carbon sequestration.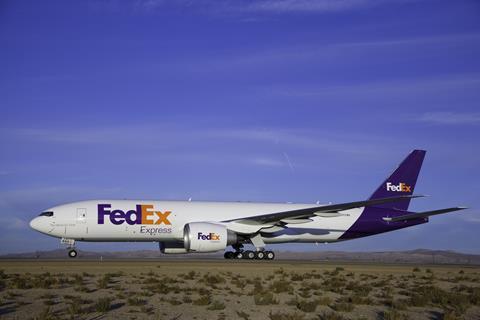 "We have a responsibility to take bold action in addressing climate challenges," says the carrier's chief executive Frederick Smith. "This goal builds on our long-standing commitment to sustainability throughout our operations, while at the same time investing in long-term, transformational solutions for FedEx and our entire industry."
In addition to deploying more zero-emission electric trucks for pick-ups and deliveries, and supporting carbon sequestration research at Yale University, the company will invest in alternative jet fuel and aircraft modernisations.
The carrier hopes to achieve carbon-neutrality by 2040 and says it has cut aircraft emissions 24% since 2005. It also says that since 2012 it has saved a combined 5.4 billion litres (1.4 billion gallons) of jet fuel and avoided more than 14.9 million US tonnes (13.5 million metric tonnes) of carbon dioxide emissions.
"FedEx will build on its successful FedEx Fuel Sense initiatives designed to reduce fuel consumption in its aircraft," the company adds.
In January, airframer Boeing said it would be producing new commercial aircraft that are able to burn 100% "sustainable" fuel by 2030, an achievement the company said at the time was essential to meeting industrywide carbon reduction goals by 2050.
The aviation and aerospace industry has committed to reducing airline emissions to half of 2005 levels by 2050. Sustainable aviation fuels (SAF) are an integral part of that aspiration.