Brazilian airline Gol reported a second-quarter loss of R2 billion ($384 million) as the coronavirus crisis ravaged the air transport industry in the Latin American country.
Revenue during the quarter was down 89%, at R358 million, and the carrier transported just 627,000 passengers, a 92% decline from the same period in 2019, as cases of the highly-contagious virus spiked.
But initial signals in the early part of the third quarter have allowed executives at Brazil's largest carrier to look optimistically toward year-end and beyond.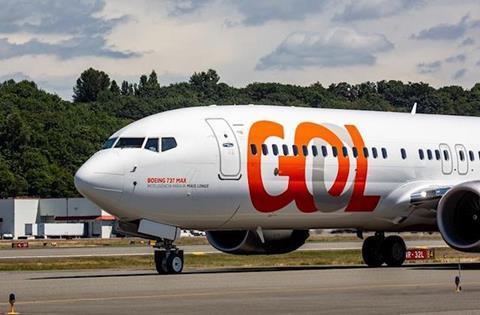 "Our second-quarter results are a reflection of the severe impact that Covid-19 is having on Brazil's economy, the air transportation industry and our company," says chief executive Paulo Kakinoff.
But, the airline has seen a small rise in customer demand toward the third quarter, and is increasing capacity in response, Kakinoff adds.
Chief financial officer Richard Lark says the airline is looking at the third quarter as a "bridge to a new normal", and it expects in the fourth quarter to operate about 70% of its typical schedule.
"Seasonality-wise, the worst part of our year is behind us, now we would be ramping up to the push to the end of the year," says Richard Lark. That will dovetail well with the easing of restrictions on mobility, he adds.
The airline expects corporate travel to once again ramp up in September or October, executives say. That will then lead to a traditionally strong leisure travel season around Christmas and the New Year holidays, extending through Carnival, which usually falls in February.
"We are seeing a return in customer demand, which is promising," Lark says, adding that forward sales have grown an average of 18% with every passing week.
The carrier ended the second quarter with 27 of its all-Boeing 737 fleet operating. By the end of June, about 17% of the network was operational with 120 daily flights, the airline says. That will extend to 250 daily flights in July, with operations about 25% of normal. Thirty-six aircraft are currently operating in the network, Gol adds.
It estimates an average operating fleet of 69 aircraft for the third quarter and expects to end September with 74 operating aircraft, representing 60% of the aircraft operating in the same period last year.
Capacity in the third quarter will be about three times that of the second, the company says, and it is looking at an overall load factor of about 79%.
Latin American countries have left their air carriers largely on their own to manage the crisis, providing little or no financial support to the sector. In addition, strong travel restrictions in some countries have almost completely shut down the industry, leading two carriers - Aeromexico and LATAM - to file for bankruptcy protection from creditors.