Parent of UK leisure carrier Jet2 has pulled its full-year financial guidance after the operator was forced to cancel all flying until 1 May following the widespread introduction of travel restrictions across Europe.
Dart Group had a just a week ago said in a trading update ahead of the close of its financial year to 31 March 2020 that due to the "continued success" of its growing leisure travel business, it expected group profit tax and currency effects would be "significantly ahead of current market expectation".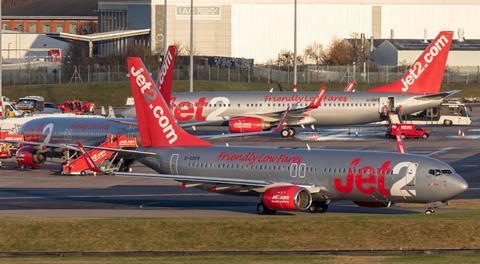 But Dart Group, citing the "unprecedented and unforeseen" levels of travel restrictions imposed by European governments in response to the coronavirus outbreak, has resulted in Jet2 having to suspend its flying programme until at least 1 May.
"Given the current situation and the wide range of intangibles with which we are now faced, including concern for our hotel partners with whom we have placed deposits to secure hotel rooms for the Summer 2020 season, we now have reduced visibility on the financial implications for our company.
"In light of these rapidly changing exceptional events, plus the uncertainty around deposits recovery, the board has today decided to withdraw its previous profit guidance issued on 11 March 2020 and will provide a further update in relation to the FY20 profit outturn once circumstances become clearer," it says.
It similarly says it has no clarity on how the coronavirus crisis will impact its financial year to 31 March 2021.
"Although we have a strong and prudent balance sheet with a £1.5 billion ($1.8 billion) cash balance at 18 March 2020 and long-term structured debt in relation to aircraft financing, given the escalating situation we have accelerated actions to underpin the stability of our business and improve cash flows.
"This includes a reduced flying programme beyond 1 May 2020, freezing recruitment and discretionary spending and deferring all non-regulatory capital expenditure. In addition, we are in ongoing discussions with existing liquidity providers who recognise the strength of our business model."