Jet2 has raised £422 million ($582 million) through an equity issue aimed at ensuring it has sufficient liquidity in the event of an "extended and likely unpredictable shutdown".
The UK leisure carrier says it issued 35 million placing shares and subscriptions for 593,561 retail shares, all priced at $11.80 per unit, representing a discount of approximately 9.1% to the 11 February closing price.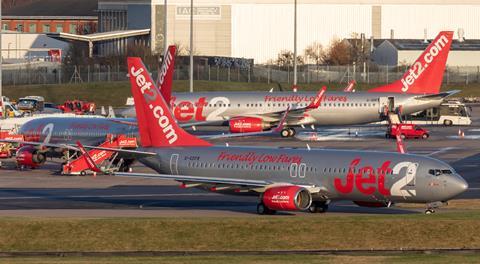 The fundraising represents 20% of pre-issue share capital, says Jet2.
It says it consulted with a number of its major shareholders prior to the fundraising in order to adhere to the "principles of pre-emption as far as possible" through the allocation process, and is pleased by the "strong support" it has received from existing shareholders and new investors.
Canaccord Genuity and Jefferies acted as joint global co-ordinators, joint bookrunners and joint brokers in connection with the placing. Cenkos Securities acted as nominated adviser to the airline.
Jet2's executive chairman Philip Meeson states that, based on the indicative scenario planning undertaken by management, the board believes that the proceeds will provide "sufficient liquidity on an extended and likely unpredictable shutdown basis to deal with this continually challenging trading environment".
Meeson adds that the funds raised will allow Jet2's management to continue to adopt a "decisive, but prudent, responsible financial management approach" and improve Jet2's ability to exit the pandemic "in a stable commercial position, so that it is well positioned to capitalise on the upturn opportunity when it arrives".