An "entrenched" board of directors with ties to Frontier Airlines is behind Spirit Airlines' disinterest in a proposed acquisition by JetBlue Airways.
That is according to JetBlue chief executive Robin Hayes, who expressed confidence on 26 May that Spirit shareholders will reject a competing acquisition proposal from Frontier.
"We have a very entrenched board… at Spirit," Hayes says during an investor conference hosted by finance company Wolfe Research. "They seem to be very dug in to the entrenched position they have taken."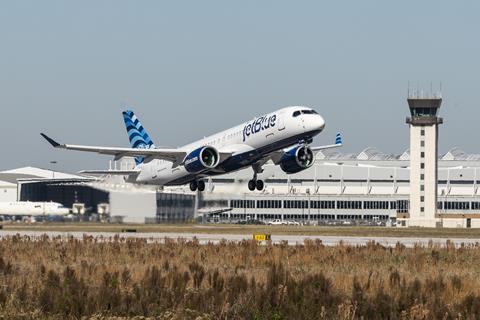 Spirit's shareholders are scheduled to vote on 10 June whether to approval Frontier's proposal.
"We clearly have a superior financial offer," Hayes adds. "We are going to continue to press the case to Spirit shareholders."
Spirit's board has thrown its support behind a February offer by Denver-based Frontier to buy Spirit with cash and stock that was at the time valued at $2.9 billion.
New York-based JetBlue responded in April with a competing all-cash offer to buy Spirit, based in Florida, for $33 per share.
Spirit's board says it favours a Frontier acquisition due to uncertainty that regulators will approve a combined Spirit-JetBlue. The board has noted that JetBlue is already being sued by the US government over a partnership in the Northeast USA with American Airlines.
Spirit has said regulators are unlikely to approve a deal that would eliminate a major ultra-low-cost carrier (ULCC). While merging with Frontier will also eliminate Spirit as a competitor, it would allow Frontier, also a ULCC, to expand.
But Hayes argues anti-trust regulators will equally examine either a Spirit-JetBlue or Spirit-Frontier combination.
"It's not going to be easy in either case, but there is a path to get both deals done," Hayes says on 26 May.
In response to Spirit's rejection, JetBlue has taken its bid directly to shareholders.
In a 26 May letter to stockholders, JetBlue accused Spirit's board of being "conflicted and prioritising its own self-interest and personal relationships with Frontier".
The letter notes that "multiple" Spirit board members have "significant ties to" Frontier's board chair Bill Franke, who previously was chair of Spirit's board.
Hayes also says Spirit has never taken JetBlue's offer seriously.
Spirit provided JetBlue with "a fraction of the documents" that would be expected as part of a proposed merger, says Hayes, adding that Spirit displayed "no negotiation or attempt to try to come to an agreement".