JetBlue Airways posted a $320 million loss in the second quarter and expects further volatility through the third and fourth quarters as the long-term effects of the coronavirus on the New York-based low-cost carrier become clear.
Operating revenue was down almost 90% with capacity in the quarter down about 85% from the same period a year earlier, as the carrier attempted to mitigate its daily cash burn, the company says.
Cash burn in the quarter was about $7.7 million daily, and JetBlue expects that to remain in the $7-9 million range for the third quarter.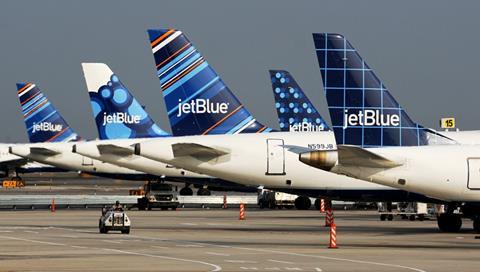 "It is highly likely that the recovery will not be linear," Robin Hayes, JetBlue's chief executive, tells analysts on the company's quarterly earnings call on 28 July.
"In the past two months, we made progress in reducing our cash burn, and have been quick to resize our operations to the very dynamic demand environment. While demand has improved materially from the lows we saw in April, bookings remain choppy, and we remain focused on addressing changing trends as we progress through the summer," he adds.
The airline plans to fly, at most, 55% of capacity in the third quarter, and two-thirds of its schedule in the fourth, executives say. Revenue will be down about 60-70% in the fourth quarter.
The airline, which is traditionally strong in the Northeast US and in Florida, has had to deal with more cancellations recently as vacationers, desperate to get out for a holiday after months of shelter-in-place orders, become increasingly wary of new quarantine restrictions in the New York City region, as well as case count spikes in southern holiday destinations. JetBlue says it is being conservative with planning in order to preserve cash.
"We understand our cash break even for flights and we will not operate flights that are not cash positive," says Joanna Geraghty, the airline's chief operations officer. "We are focused on cash preservation at the moment."
JetBlue ended the second quarter with $3.4 billion in liquidity, which includes the $936 million in payroll support it received as part of the federally funded CARES Act government financial aid. The federal assistance bill, passed in March, set aside $25 billion in grants and an additional $25 billion in loans for US passenger carriers to manage through their liquidity squeeze after customer demand dropped to near zero at the height of the pandemic-induced crisis.
The terms of those grants and loans included a requirement that airlines not furlough or lay off employees until the end of September.
The US government is considering an extension of the plan, colloquially dubbed "CARES-2", but so far those negotiations remain inconclusive. Unions and airlines have called on lawmakers to consider this extension or expect mass layoffs in the air transport sector come October.
"The way I see it, CARES-1 saved the industry and CARES-2 is about jobs," Hayes says. "There's no doubt that a CARES-2 would be a significant game-changer in protecting jobs and give the industry more time to recover."
EAST AND WEST COAST SHIFTS
Two weeks ago, JetBlue announced a strategic cooperation agreement with rival American Airlines, concentrated in the Northeast US, which will allow passengers to more-seamlessly connect between flights on the two airlines.
The agreement enables codeshare and loyalty agreements, allowing customers to collect and spend miles on both airlines, as well as book routes operated by the two carriers on the same ticket. It opens more transatlantic routes to JetBlue customers, while American's travellers have more options and a better foothold from JetBlue's Boston and New York-JFK hubs. The airlines said at the time that the codeshares will bring 60 new American routes into JetBlue's network and 130 JetBlue routes into American's operation.
"This new and unique partnership will accelerate our recover from the impact of the coronavirus and strengthen our ability to compete in the northeast," Hayes says.
Meantime, on the West Coast, JetBlue said on 9 July it is moving its entire Los Angeles-area operations – including crew, service and maintenance bases – from Long Beach to the much larger Los Angeles International airport, about 15nm (27 km) away. JetBlue's last day at Long Beach will be 6 October.
"This consolidation in an otherwise gate-constrained airport will help improve costs and improve margins," Geraghty says. "It sets us up longer-term to expand domestically and internationally,"
She adds that by 2025 the airline plans to operate 70 flights daily from Los Angeles.
JetBlue's transcontinental flying out of Los Angeles "outperforms Long Beach by wide margins", she says.