JetBlue Airways is the latest US carrier to announce plans to unblock middle seats, citing research showing passengers face a low risk of catching coronavirus on an aircraft.
The New York-based low-cost carrier says on 12 November it will gradually remove seat blocks and open all seats from 8 January, following studies showing aircraft are "as safe or substantially safer than other more common settings."
"With the science validating the safety of the aircraft cabin, JetBlue will phase out seat blocks by early 2021," chief operations officer Joanna Geraghty writes in a note published on the carrier's website.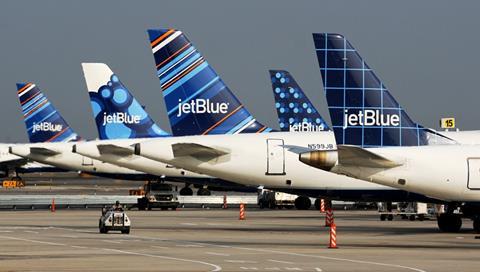 "We have always been confident that the potential for transmission on the aircraft is extremely low," she adds.
JetBlue will cap loads at 70% until 1 December, after which it will raise that number to 85% through 7 January. After that, all seats will be available for booking.
When the global pandemic began earlier this year, most airlines blocked middle seats, giving customers more space for social distancing. Airlines hoped that keeping passengers separated would encourage them to return to the air sooner.
But as time passed and financial pressures on airlines mounted, many carriers, including Spirit Airlines, United Airlines and American Airlines, stopped the practice.
Southwest Airlines has said it will begin unblocking middle seats on 1 December. That leaves Delta Air Lines the only other major US carrier to continue blocking the seats through early January.
US airline lobby group Airlines for America (A4A), of which JetBlue is a member, said earlier in the day that the top nine US passenger airlines are still burning upwards of $180 million daily, and are desperately looking for ways to save money and generate revenue.
So far this year, the nine have posted a combined $36 billion in losses.
Industry analysts have said it is unrealistic to expect airlines to continue blocking middle seats in the long term. Hospital-grade air filters in aircraft along with enhanced cleaning protocols and personal protective equipment such as face coverings have been proven to be effective measures to limit or stop the spread of the virus on aircraft, studies have shown.