Korean Air will increase international passenger capacity to about half of pre-pandemic levels by the end of the year, as it mulls "preemptively" hiring more staff to cope with increased demand.
As part of the capacity ramp-up, the SkyTeam carrier will return its Airbus A380s into service on Asian routes later in the year.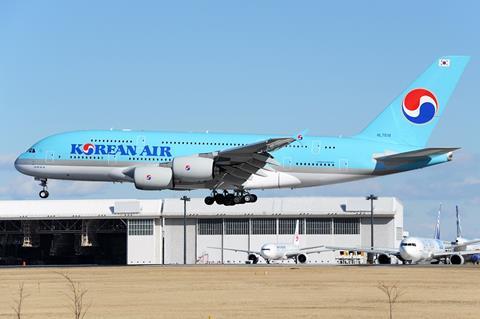 A statement from the carrier on 29 June details plans to restore passenger capacity by increasing the number of flights across the network from July. Current international ASKs stand at just 30% pre-pandemic levels, though the airline has resumed operations to most cities in its pre-pandemic network.
Major North American routes, such as Seoul Incheon-New York and Seoul Incheon-Los Angeles will have two flights a day in operation by August. The carrier will increase frequencies to other cities, such as Honolulu, Vancouver and Washington, to daily flights.
The capacity increase on the European network is less aggressive, with Frankfurt and Amsterdam only seeing five flights a week, up from the current thrice weekly schedule. Korean Air intends to restart thrice-weekly flights to Vienna, Barcelona, Rome and Milan, four cities which it suspended operations to amid the coronavirus pandemic.
As for Southeast Asia, it will ramp up frequencies for cities such as Singapore, Bangkok and Manila to twice daily, while Hanoi and Jakarta will be operated daily.
Within North Asia, which still has restrictive travel policies, Korean Air is only adding frequencies to Hong Kong and Taipei, while resuming flights to Okinawa.
The carrier will also resume international flights from Seoul Gimpo airport from late-June, operating the popular Seoul Gimpo-Tokyo Haneda route twice a week.
Korean Air says it will be deploying the A380 on two Asian routes: Seoul Incheon-Hong Kong and Tokyo Narita routes by September. This will be on top of plans to operate the superjumbo on New York flights in July.
It is among a growing number of carriers around the world reactivating the A380 to cope with a rise in travel demand.
The carrier in its latest statement also says it is looking to "preemptively hire" workers to ensure that it will not face disruptions when demand surges. Roles it is looking to fill include cabin and flight crew. Existing crew members are also undergoing refresher training in preparation for the airline's capacity ramp-up.