Pan-European airline operator Lufthansa Group is keeping options open on its proposed tie-up with new Italian carrier ITA Airways as it says it is "monitoring closely" renewed consolidation trends in the sector.
Lufthansa has teamed with Swiss shipping firm MSC Group on a possible deal under which the airline group might acquire a minority stake in the successor carrier to Alitalia. The partners in late January requested 90 days of exclusivity to work on the expression of interest.
gr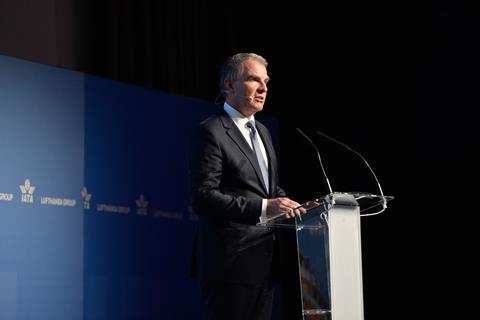 Speaking during a full-year results press conference today, Lufthansa Group chief executive Carsten Spohr says: "Italy is the most important international market for us in Europe… and second [worldwide] only to the USA. So Italy is of strategic importance and with our experience with Air Dolomiti, we believe that the Lufthansa Group is the ideal partner for ITA, with everything that we already have in Europe and joint ventures around the world.
"We will soon have a look at the data in the data room to see what ITA actually offers and we will then decide which options are attractive for us; commercial alliances or investment activities for a minority share," he says. "But that is something we can only tell you once we have got to the data room and seen what ITA currently has to offer."
Asked about the value in taking only a minority holding in an airline, Spohr says this could range from supporting a commercial co-operation or be a starting point for taking majority control, as happened with its investment in Brussels Airlines. "We've seen all of such options in the past, let's wait and see with ITA," he says.
Brussels Airlines is one of several European operators of which Lufthansa has acquired majority control alongside Air Dolomiti, Austrian Airlines and Swiss International Air Lines. While those acquisitions date back more than a decade – it more recently acquired parts of collapsed rival Air Berlin and was interested in bidding for leisure operator Condor in 2019 – and post-pandemic Spohr sees renewed consolidation activity in the sector.
"We are monitoring closely the renewed consolidation trend in our sector. With the recovery of European aviation, consolidation has again become a key issue," he says. "For us a strict rule applies. Each acquisition has to create value."
Spohr argues consolidation is required to give European airlines the necessary strength to compete against global rivals and suggests regulators should view competition in this context.
"In the past few weeks and months I have often been to Brussels and I think there is an awareness that we need strong airlines in Europe, given the fact the major US airlines have received government support and other airlines in Asia and the Middle East are also getting a lot of support," he says.
"How this will play out and with anti-cartel authorities remains to be seen, but against the background of what we have seen in the recent past, I think we definitely need to strengthen European airlines because otherwise we will no longer be able to compete with others – this has to happen through consolidation."