Trade union Verdi believes EasyJet is planning to almost halve its operation at its sole German base in Berlin.
The UK budget carrier on 1 July resumed regular flights from Berlin after their suspension because of the coronavirus crisis.
Verdi says Easyjet intends to reduce its local fleet to 18 aircraft by year-end, from a total of 34 aircraft stationed at Berlin's Tegel and Schonefeld airports before the pandemic.
Some 738 jobs of EasyJet's 1,540 local employees will be made redundant, the union expects.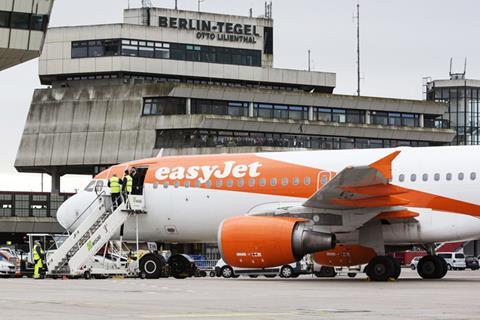 EasyJet expanded its operation in Berlin in late 2017 – following Air Berlin's demise – and added around 1,000 employees to its local staff, many of whom came from the insolvent German airline, Verdi notes.
It adds that EasyJet will discontinue German domestic routes as part of the cuts.
Cirium schedules data shows that EasyJet serves Cologne, Dortmund, Dusseldorf, Frankfurt, Munich, Stuttgart and the German island Sylt from Berlin.
Verdi aviation secretary Holger Rossler states that the carrier's decision is "incomprehensible to us and cannot be explained by the pandemic".
He argues that Berlin's long-delayed Brandenburg airport – now set to open in October – will "open up new opportunities for air traffic" in the city.
"Why EasyJet now halves its presence in Berlin remains to be seen," he adds.
EasyJet confirms that it has started consultations with pilot and flight-attendant representatives about a "reduction in the number of aircraft and staff stationed in Berlin", without disclosing specific targets.
Citing IATA projections that passenger demand will not recover to pre-crisis levels before 2023, the airline pledges to work closely with employee representatives, provide "full support" for affected staff, and "inform the Verdi union accordingly".
EasyJet chief executive Johan Lundgren states: "Unfortunately the lower-demand environment means we need fewer aircraft and have less opportunity for work for our people".
He says the airline must "focus on profitable flying", but insists: "Berlin remains a strategically important part of our network."
Citing "significant investments" in the German capital, he says "we will remain Berlin's largest carrier [and] fully committed to the base and its long-term success".
Verdi describes EasyJet's decision as "premature" and warns it will have "economic consequences" for Berlin's new airport
The union is calling on the city's government and that of surrounding state Brandenburg to "intervene and… save as many of the jobs at EasyJet as possible".
Berlin airport's chief executive, Engelbert Lutke Daldrup, acknowledged EasyJet's operational reduction during a 1 July press conference but said the budget carrier had committed to maintaining Berlin's status as its second-largest base outside the UK.
He says Easyjet plans to operate about 55% of its pre-crisis capacity in Berlin this and next year, and decide about further activities in 2022.
In a separate, joint statement by Easyjet and airport operator FBB about the resumption of flights, the airline says it intends to operate almost three-quarters of its network from Berlin by August, deploying up to five aircraft at Schonefeld and four at Tegel.
Under the plan, the number of destinations is set to rise from the current 39 to around 50 by August.
EasyJet tells Cirium that the German government should – "in this time" – support the nation's aviation industry "as a whole rather than an individual company" through "co-ordinated intervention".
The carrier argues that governments should give airlines with "viable business models" access to liquidity and ensure "a level playing field, so that every airline that is economically relevant to international aviation connections has the same chances of survival and stable operation".
Lufthansa recently arranged with the German government a €9 billion ($10 billion) bailout, and has secured support packages from the governments of Austria and Switzerland for group subsidiaries in these countries.
The government in Berlin has additionally facilitated an €1.8 billion loan to tour operator TUI.