The restructuring of Thai Airways International has dominated headlines in the Kingdom, but a smaller, privately held carrier is also reorganising under the same business rehabilitation protection as the flag carrier.
Less is at stake for lessors in Nok Air's restructuring. The airline has only about half the number of leased aircraft that Thai has, and its fleet is much simpler: just 14 Boeing 737-800s and eight De Havilland Canada Q400s, according to Cirium fleets data.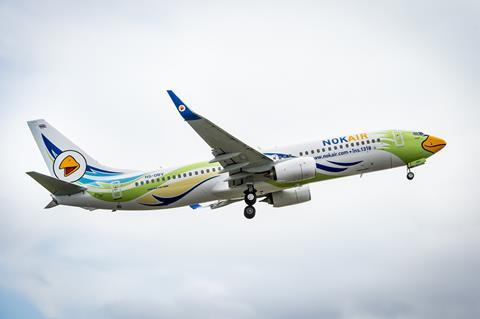 But the lessors that do have exposure include some of the biggest names in the business, such as Avolon, BBAM, BOC Aviation and GECAS – and all of these lessors have multiple units exposed to Nok.
Not only are several major lessors exposed, but Nok's rehabilitation is also important because it is likely being closely watched by other privately held Thai carriers that may be eyeing a restructuring themselves.
"I think Nok is almost the canary in the coalmine because the other airlines that operate [in Thailand] like Thai AirAsia, Thai Lion, and Thai VietJet to some degree have fairly similar business models," says Alan Polivnick, a partner at Watson Farley & Williams' Bangkok office.
On 4 November, Thailand's Central Bankruptcy Court gave Nok the green light to restructure under business rehabilitation protection.
Cirium understands that Nok and Grant Thornton Specialist Advisory Services – which is one of Nok's rehabilitation planners and responsible for drafting its rehabilitation plan – contacted lessors late last year to request sweeter lease terms.
One lessor contacted by Nok and Grant Thornton told Cirium that the companies proposed a period of by-the-hour payments, followed by reduced rentals. The rates would be higher during peak seasons and lower during the off season. That lessor responded to the proposal in December.
Then, the following month, Nok issued a request for proposals (RFP) for the operating lease of up to 26 aircraft to be delivered between this year and 2026, according to a 21 January document seen by Cirium.
This invited "reputed lessors" to submit proposals for up to 19 737-800s, four Q400s or ATR -600-series turboprops, two Boeing widebodies with approximately 300 seats, and one 737-800 freighter. The deadline for submissions was 12 February.
Lessors who received the RFP suggested at the time that Nok was using the RFP to get an idea of what aircraft are available in the market and on what terms it could lease them, and could also use any proposals it received as leverage to pressure existing lessors into granting better terms.
"It's been a bit of a joke of an RFP… No one knows when they are coming out [of court-supervised rehabilitation]," one lessor, who received the RFP and does not have current exposure to Nok, tells Cirium.
"There are a lot of 737s just sitting around. We thought we'd just throw them everything and see what they come back with."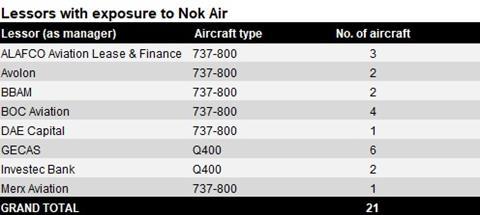 One lessor with exposure to Nok complains that the RFP should have been issued at the same time that Nok and Grant Thornton contacted current lessors, and argues that waiting until January to issue it is likely to delay the rehabilitation process.
"They are going to get offers from everybody and their grandma, and they will have to find ways of going through those offers, and evaluating them, and comparing them against their existing leases. They should have done that first and foremost. Why on earth are they wasting our time?" the person says.
"The debtors have tremendous power through these [restructuring schemes]. If they are allowed to do it – fair enough; they have got to get the best terms for their business; you understand that – but they should have run the RFP process in parallel."
WFW's Polivnick describes the RFP as "in some ways… almost a fairly clever strategy to see which lessors are going to stand up and make a better offer, which lessors are going to bid against themselves, and which new lessors are going to be interested in making an offer to Nok".
He adds: "I think the weakness in the market – the soft market – means there are lessors who may be interested. The question is to what extent this is a commercially viable option for lessors."
Polivnick says the issue with by-the-hour contracts, which Nok has requested from its current lessors, is that if lessors agree to multi-year contracts, they may lock themselves in to an unfavourable deal.
"Lessors who are looking at these PBH proposals [from airlines around the world, including Nok] are saying: 'Well, if the market picks up in six months' time and I'm stuck with a PBH lease for two years, am I better off not to put the plane somewhere for six months on the basis that when the market picks up I'll be able to do better in terms of rental rate – a rent structure where I'm not carrying the commercial risks?'"
Under by-the-hour agreements, airlines do not have to pay lessors unless they operate the aircraft. This differs from a traditional operating lease arrangement, under which airlines must make monthly payments regardless of utilisation.
"Nok seemed fairly confident they were going to get the lessors to agree to their terms and their proposals," Polivnick says. "I guess we will see what happens with that."
Nok has been contacted for comment.
ATTEMPTS TO REPOSSESS
Not all lessors are ready to agree to the airline's proposals. Some are trying to take their aircraft out, despite the difficult Covid-19 environment that has led to a slump in demand for aircraft.
Repossessing aircraft can be a slow and painful process at the best of times, and Thailand has a reputation for being a tricky jurisdiction from which to extract aircraft. During Covid-19, lessors can expect a worse headache.
One lessor had a court date for its repossession in early February, but this was postponed until May due to Covid-19, according to a person with knowledge of the matter.
Even if lessors do succeed in eventually extracting their metal, it might not be all that bad for the airline.
"To some degree, if the market is going to be soft now here domestically or [for] the next six months, that may not be such a bad thing for Nok if lessors take certain aircraft out," Polivnick says.
"But that remains to be seen, and I think for them the question is where will they be in a year's time? Where will they be in two years' time? It's the same question I think [Thai] AirAsia, [Thai] Lion and [Thai] VietJet are probably asking themselves: 'How long can we survive without the international traffic and international flights and what do we need to do to make money on the current model?'"
However, for Nok there is also the risk that if one lessor completes a successful repossession of its plane, the rest could easily follow suit, leaving it without enough aircraft for its new business plan.
"The concern, I would say, if I were Nok, is the court only has to make an order in favour of the lessor in one of these applications, and the other lessors can all move on the same basis," Polivnick says.
FRESH EQUITY
The contents of Nok's new business plan are not yet publicly known, although the airline has shared drafts with lessors that may or may not resemble the final publication.
The rehabilitation planners are due to submit the plan to the Central Bankruptcy Court on 15 March, although under law the airline is entitled to two extensions of one month each, which could give it until May to submit the plan. Compatriot carrier Thai Airways has used up both of its extensions, having extended its submission deadline first from January to February, then from February to March.
While there can be no certainty before publication, it seems likely that the plan will encompass an effort to recapitalise the airline.
Nok's three biggest shareholders, with a combined 75% stake in the company, are members of the wealthy Jurangkool family, according to the Stock Exchange of Thailand. The next biggest shareholder, Thai Airways, holds a 13.3% stake.
Wutthiphum Jurangkool, the son of Hatairat Jurangkool who owns 26.4% of Nok, is the current chief executive of the carrier. His father, Sunsurn Jurangkool, occupied positions in Forbes' list of the 50 richest people in Thailand between 2007 and 2015.
In the past, the family has been willing to inject capital into the airline. As recently as January 2020, Hatairat Jurangkool issued a Bt200 million (then $6.56 million) loan to the carrier.
In a interview with the Bangkok Post published on 21 March 2020, chief executive Wutthiphum Jurangkool said he wanted to ensure the major shareholder of the carrier would not be a foreign investor.
"We have to make sure that the Thai aviation industry will not be dominated by foreigners," he said.
"As long as our family is here, I'd like to ensure that the major shareholder of Nok Air will not be a foreign investor, in order to prevent the country from being paralysed when facing sanction or international conflicts."
However, with several Asian governments seeming reluctant to lift Covid-19-related travel restrictions until at least 2022, limiting Nok's ability to make money on international flights this year, the Jurangkools will have to reflect upon whether they can continue to pump money into the carrier alone.
There would probably be demand from foreign investors to take a stake in Nok, reckons Polivnick.
"If the fundamentals were good, I suspect there would be investors who want to buy in, both in Thailand and outside Thailand," he says.
"But I guess the first question would be: 'What does the family want to do?' Because this is their airline, and they have kept the shares fairly tightly and closely held for some time."
He adds: "There is a lot of speculation at the moment as to who is actually going to survive all of this [disruption caused by Covid-19] in the Thai market and who is going to be best placed to capture that demand when domestic travel does rebound and when foreigners start to come back to Thailand and want to fly around."
Analysis by Michael Allen of Cirium