Scandinavian budget carrier Norwegian has converted another SKr231 million ($26 million) of debt into equity by issuing 56.3 million new shares.
The airline says in a notice to the Oslo stock exchange that following the bankruptcy of two of its crew subsidiaries – OSM Aviation and Pilot Services Sweden – it engaged in "constructive dialogue" with the two units' estates and reached an agreement to convert SKr231.3 million of "outstanding payables" into 56.3 million new shares at a conversion price of just under NKr4.25.
In April, Norwegian confirmed that four subsidiaries which employed more than 4,000 pilots and cabin crew members in Denmark and Sweden had filed for bankruptcy.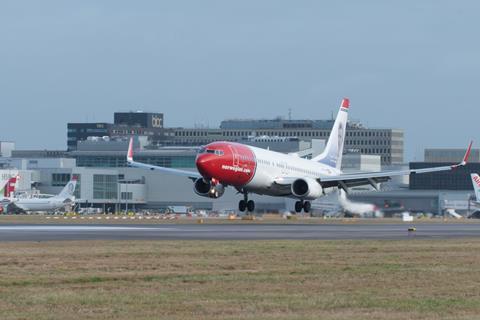 Norwegian says it has registered the latest share capital increase with the Norwegian register of business enterprises. Two-thirds of the shares are tradeable from today but the remaining 18.8 million shares are subject to a lock-up until 9 December.
The airline's new share capital now amounts to nearly 3.7 billion shares.
Earlier this year, Norwegian converted NKr12.7 billion ($1.4 billion) of debt into equity as part of a financial restructuring which enabled it to access a NKr3 billion state-aid lifeline.
The carrier says it is "continuing to work with vendor repayment plans and possible further conversion of debt to equity".