Restructuring low-cost carrier Norwegian is targeting a net profit for the coming year on deeper capacity cuts after progress on its turnaround in 2019 was clipped by the impact of the Boeing 737 Max grounding and Rolls-Royce engine issues.
The airline will now cut ASK capacity by up to 15% in 2020 and is not expecting its grounded Boeing 737 Max aircraft to return to service until September, one of the factors behind the deeper capacity cuts this year.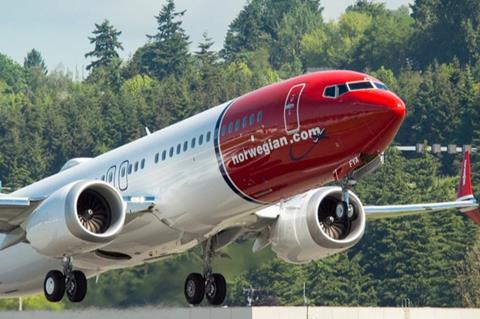 Full-year figures released today by Norwegian show the airline did improve its financial performance in 2019 at an operating and pre-tax level. Norwegian pre-tax losses for the full year were cut 32% to NKr1.68 billion ($183 million) and it turned an operating profit of NKr856 million - compared to an EBIT loss of NKr3.85 billion the previous year.
But the airline's net losses crept up 11% to NKr1.61 billion for the 2019.
"Figures were negatively impacted by the global grounding of the Boeing 737 Max aircraft and ongoing Rolls Royce engine issues," Norwegian says.
Norwegian revenues rose 8% to NKr43.5 billion during the year, driven by a 7% increase in unit revenue and increased ancillary revenue per passenger. This was achieved on capacity raised only 1%.
"2019 marked a new flight path for Norwegian as the company changed its strategic focus from growth to profitability. We have achieved our initial goal to save NKr2.3 billion as part of #Focus2019 and concluded several positive financial milestones," says Norwegian chief financial officer Geir Karlsen.
"The focus of returning to profitability will continue as we focus on Program NEXT to build a strong, sustainable and profitable business."
Specificaly for 2020 the airline now expects to cut ASK capacity by between 13-15%. It originally planned to reduce capacity around 10% this year.
"The reduction is in line with the changed strategic focus from growth to profitability and is affected by the disruptions to the fleet due to the global grounding of the Boeing 737 Max aircraft and ongoing Rolls Royce engine issues," the company says.
Norwegian's gudiance is based on a return to service for the Max in September 2020. Norwegian had 18 of the type in service at the time of the grounding last March. It also includes an assumption of 16 Boeing 737 Max deliveries in 2020 and 10 in 2021.