Low-cost carrier Norwegian has obtained the first 10% of the funding that Norway's government is guaranteeing for it under a rescue plan for the national airline industry.
On 19 March, Norway announced an NKr6 billion ($542 million) bailout for the sector, of which half would go to Norwegian. The state pledged to guarantee 90% of the total amount if financial institutions contributed the other 10%.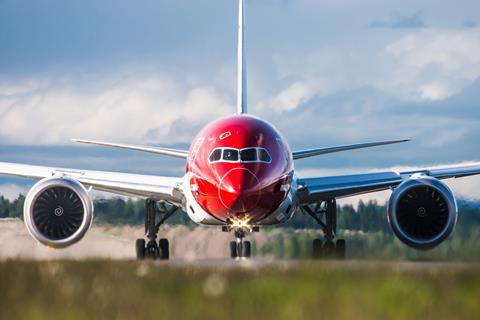 Norwegian now says two Nordic banks have received credit-committee approval to contribute the 10% required to provide the first, NKr300 million tranche in financing to the airline, which is working to unlock the NKr2.7 billion covered by two further tranches. Each tranche has a maximum maturity of two years.
"The first NKr300 million will create necessary headroom to pursue the remaining tranches of the guarantee scheme," says Norwegian.
The company has found itself locked out of capital markets given the impact of coronavirus on the airline sector, limiting its options to secure financing.
On 23 March, lessor DP Aircraft said that Norwegian had missed payments on two aircraft, specifying their registrations as LN-LNA and LN-LNB. Cirium fleets data shows that both of these Boeing 787-8s are in storage.
DP Aircraft said it was in discussions with Norwegian "in order to determine whether and on what basis it may be able to meet its obligations".
Most of Norwegian's fleet is currently grounded and the company has temporarily laid off some 90% of its staff. It is operating a skeleton service mostly in Norway and Sweden and between Nordic capitals in order to maintain critical connectivity for people, goods and medical supplies.