Canadian regional carrier Porter Airlines restarted flights on 8 September after an 18-month coronavirus-driven pause.
The Toronto-based carrier has relaunched service at the city's secondary airport, Toronto City Billy Bishop, and at Montreal, Ottawa and Thunder Bay, Ontario. In the next 10 days, Porter will add further domestic destinations, with flights to the USA to begin on 17 September, it says on 8 September.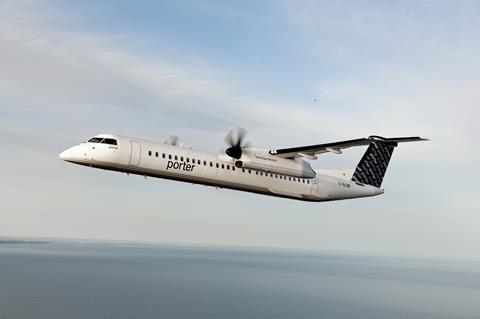 "Our passengers and team members have been waiting for this day to arrive," says chief executive Michael Deluce. "We currently have over 900 team members who have put in countless hours to get everything ready for our return to service, with more being recalled or hired every week."
Porter shut down operations on 20 March 2020, as the coronavirus crisis was beginning to make itself felt across the world. Canada introduced a strict lockdown to stem the spread of the highly-contagious virus and effectively closed its borders, making air travel to, from and within the country difficult. Over the past year and a half, the airline delayed its restart 11 times, leading to speculation as to whether it would return at all.
But in June, Deluce said the carrier received a federal loan for C$270 million ($219 million), including C$20 million set aside for passenger refunds, in order to help it relaunch.
Prior to the crisis, Porter served 19 destinations in eastern and central Canada and the Northeast USA using a fleet of 29 De Havilland Canada Dash 8-400 turboprops. The airline said in July it had ordered 30 Embraer 195-E2s and has options to acquire a further 50 of the jets.
On 18 August, Porter became the first Canadian airline to mandate Covid-19 vaccinations (or regular negative Covid-19 infection tests) for all employees.
A few days earlier, the government of Justin Trudeau said that by the end of October, all air, rail and marine passengers must be fully vaccinated against Covid-19, with some exceptions. Airline crews and other federally regulated transportation workers are subject to the federal vaccination requirement.
Porter adds that its vaccination policy "may evolve" as more details of the government plan are published.