Qantas has raised only A$71.7 million ($51.4 million) from a share-purchase plan (SPP) intended to raise as much as A$500 million, according to a 10 August filing to the Australian Securities Exchange.
The Australian flag carrier notes that the timing of the SPP "coincided with a series of tightened border restrictions across Australian states and territories, sparked by a Covid-19 outbreak in Melbourne and small clusters elsewhere".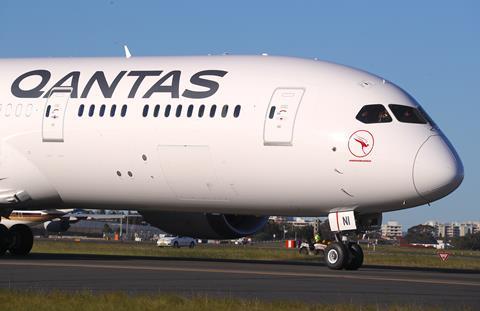 It adds: "While the Qantas Group's recovery plan anticipates some uncertainty associated with the pandemic, the timing of these events and their implications for travel demand had an obvious impact on the Qantas share price and the take-up of the SPP offer by eligible shareholders."
Applications totalling A$71.7 million came from 8,660 eligible shareholders, representing a participation rate of around 5% of 173,343 eligible shareholders, and an average SPP application amount of A$8,200.
Qantas expects to issue approximately 22.5 million new fully-paid ordinary shares as a result of the SPP. The shares will be issued at A$3.18 per share, representing a 2.5% discount to the five-day volume-weighted average price of Qantas's ordinary shares up to and including 5 August.
The shares will be issued on 12 August, and Qantas expects them to start trading the next day.
The airline's directors applied for and received their full entitlements under the SPP, though one director was unable to participate as a result of being resident outside of Australia and New Zealand. The SPP was only extended to eligible existing shareholders in those two countries.
In June, Qantas announced a three-year plan to raise up to A$1.9 billion in equity capital to strengthen its balance sheet and accelerate its recovery from the Covid-19 crisis. The plan encompasses A$1.36 billion from a fully underwritten institutional placement and up to A$500 million from the non-underwritten SPP