Ryanair has reached a four-year labour agreement with the union representing its Ireland-based pilots, but has renewed its warning of potential job losses and base closures as a result of the latest Boeing 737 Max delay.
In a stock-exchange notice issued today, the Irish budget carrier said it had "accepted before Christmas" the recommendations put forward by independent mediator Kieran Mulvey for a collective labour agreement (CLA) with trade union Forsa. The deal, which runs through to 2024, covers all of Ryanair's "directly employed" pilots in Ireland.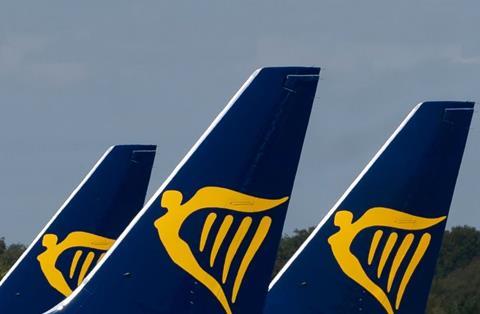 "Ryanair will now implement the terms of this CLA, which will deliver a new pay structure along with a fixed 5/4 roster for the next four years," states the airline. "Ryanair would like to thank Kieran Mulvey for his contribution and expertise in overseeing this mediation process, which has now concluded."
The agreement follows a turbulent period of strike threats and industrial unrest at the airline. Pilots represented by the Forsa union had voted in favour of strike action last August, but the planned 48h stoppage was prevented from going ahead after the Irish High Court ruled against it. Ryanair faced similar threats from unions representing its Spanish and UK-based pilots.
Confirmation of the labour deal comes two days after the airline wrote to staff to warn of the possibility of job losses and base closures, following Boeing's announcement earlier this month that it now does not expect the 737 Max to return to service until the middle of this year.
In a 27 January memo to employees, Ryanair chief executive Eddie Wilson writes that the airline does not expect the start taking delivery of the Max until September or October "at the earliest". Ryanair had hoped to have 10 Max aircraft by June 2020 but says it will now have to remove these aircraft from its flight schedule.
"Sadly, this means we cannot rule out further base cuts and closures," Wilson adds in the memo. "We will do our best to avoid any more base closures, but this will mean eliminating at least 10 aircraft from existing bases, and so further pilot and cabin crew jobs losses cannot be ruled out.
"We will try to advise all bases in the first or second week of February as to what further cuts and/or closures will be required as a direct result of these further Boeing Max delivery delays."