South African Airways has taken a step closer to resuming operations after the country's civil aviation regulator renewed the carrier's operating licence.
While SAA is still to set a restart date, its interm chief executive Thomas Kgokolo last month described securing the AOC as the key precursor to the carrier being able to restart operations.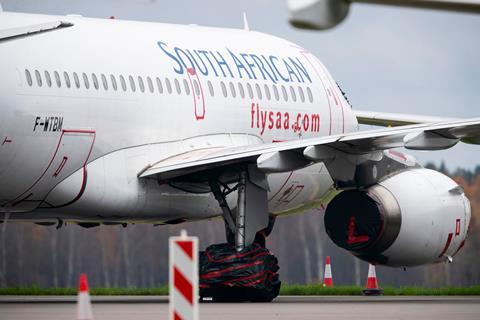 "This is an important development as SAA readies itself to take to the skies again in just a few weeks," Kgokolo says in announcing the operating licence has been renewed. "Our staff are hard at work in finishing the final preparatory phases before we make an official announcement about the exact take-off date.
"While I acknowledge there is frustration over a delay in confirming this date, all of us at SAA need to make sure vital components in a very complicated and multi-faceted process are working seamlessly before we start. I'm confident that we will be able to make that announcement soon."
Kgokolo previously said the carrier intended to initially resume cargo flights, before returning to passenger operations. He says the airline, which entered a formal business rescue process in the autumn of 2019 and for whom new investors were identified in June, expects to resume operations with a fleet of eight aircraft.
Passenger operations in South Africa were themselves further curtailed in recent weeks after a spike in Covid cases prompted a ban on leisure travel between provinces in the country. That restriction was eased in late July.
SAA had earlier in July reached a deal with its pilots' association, marking an end to a drawn-out conflict over the carrier's restructuring programme. Under that deal, SAA is to retain 88 out of 268 remaining pilots.
Kgokolo says that that all management and specialist pilots have been appointed, and that the pilots who will form the nucleus of its cockpit crew have been identified, with the processes to bring them on board to conclude in the next two weeks.
SAA suspended operations at the end of September 2020 amid mounting financial problems before a state R10.7 billion ($750 million) rescue funding package was agreed.