SIA Group saw its annual operating profit dwindle to S$59 million ($41 million) in the 12 months ended 31 March – from S$1.07 billion the previous financial year – and was loss-making at the net level.
The group says results were strong for the first nine months of fiscal 2019/20 but, amid the onset of the coronavirus pandemic, fourth-quarter revenue fell 22%. An operating loss of S$803 million in the fourth quarter compares with a profit of $253 million a year ago.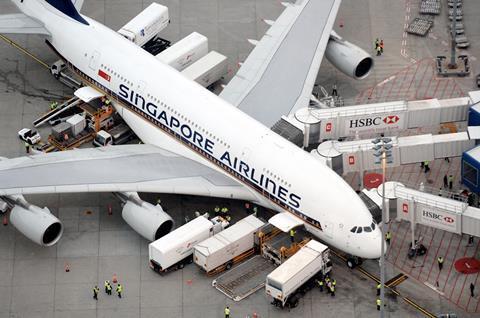 The annual net loss of S$212 million, meanwhile, compares with a profit of $683 million the previous year. Full-year revenue declined 2.1% to $16 billion as expenses rose 4.3% to S$15.9 billion.
While the group's mainline carrier Singapore Airlines made an operating profit – albeit one much lower, at S$294 million compared with S$991 million the previous year – Scoot and SilkAir both incurred losses. Scoot's operating loss of S$198 million deepened one of S$15 million the previous year, while SilkAir slipped to a S$112 million loss from a S$15 million profit.
SIA Engineering, however, improved its operating result, turning in a profit up S$11 million at S$68 million.
The group says it expects to raise S$8.8 billion with a rights issue which will be completed by June, and also has the option of issuing an extra S$6.2 billion through convertible bonds, should the Covid-19 crisis persist.
SIA says it is "exploring other sources of funding, including financing and sale-and-leaseback transactions" to help shore up liquidity.
The group has "no visibility" on the timing of the airline industry's recovery, but says there are "few signs of an abatement" in the pandemic. "Minimum flight connectivity" will be maintained for the foreseeable future, though SIA has the flexibility "to scale up capacity if there is an uptick in demand".
In the meantime, air-freight demand is strong, which the group says will "sustain cargo revenues for the near term". SIA also plans to pursue charter opportunities.