JetBlue Airways and Spirit Airlines are trading more barbs as Spirit's board continues fending off JetBlue's hostile takeover attempt in favour of merging with Frontier Airlines.
Miramar, Florida-based ultra-low-cost carrier (ULCC) Spirit on 19 May says it rejects JetBlue's acquisition offer because that deal is "NOT in the best interests of Spirit and its stockholders".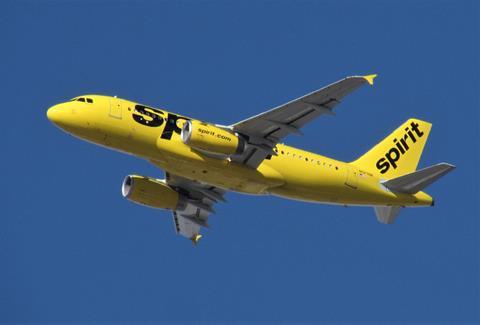 "JetBlue's tender offer has not addressed the core issue of the significant completion risk and insufficient protections for Spirit stockholders," says Spirit board chair Mac Gardner. "Based on our own research and the advice of antitrust and economic experts, our view is that the proposed combination of JetBlue and Spirit lacks any realistic likelihood of obtaining regulatory approval, while our company faces a long and bleak limbo period as we await resolution."
"Our pending merger with Frontier is advancing as planned, and we continue to recommend that Spirit stockholders vote FOR the merger with Frontier on June 10th, as we believe the combination of these two ULCCs is the best way to deliver maximum value to Spirit stockholders."
JetBlue promptly shot back, saying, "It's no surprise that Spirit shareholders are getting more of the same from the Spirit board."
The board, it adds, is "driven by serious conflicts of interest, continues to ignore the best interests of its shareholders by distorting the facts to distract from their flawed process and protect their inferior deal with Frontier", New York-headquartered JetBlue says on 19 May.
"We are confident that as we continue to share the facts directly with Spirit shareholders, they will be even more perplexed than they already are about why the conflicted Spirit board has refused to negotiate with us in good faith," JetBlue adds.
JetBlue contends that regulatory approval of the Frontier deal is not assured, and that both deals "have a similar risk profile".
"Spirit shareholders recognise that, and [they] are showing great interest in hearing more about our superior offer and the regulatory commitments and protections we have made, including a reverse break-up fee," JetBlue says.
In February, Frontier said it would take over ULCC peer Spirit in an acquisition worth $2.9 billion. Two months later, JetBlue made a competing offer worth more money, and adding that if successful, it would dismantle Spirit and fold it into its own operations.
Since then, Spirit has twice rejected JetBlue's advances, and the two companies have been locked in an increasingly bitter spat, with both sides accusing the other of bad faith. Unions at all three companies have come out in favour of the Spirit-Frontier tie-up.
Spirit's shareholders will vote on the Frontier proposal on 10 June.