Spirit Airlines says it will review a new hostile takeover offer from JetBlue Airways but advises shareholders to take no action at this time.
"Consistent with its fiduciary duties and applicable law, and in consultation with outside financial and legal advisers, the Spirit board of directors will carefully review JetBlue's tender offer to determine the course of action that it believes is in the best interests of Spirit and its stockholders," the Miramar, Florida-based company says on 16 May.
"Spirit stockholders are urged to take no action with respect to the JetBlue tender offer at this time pending the board's evaluation of the offer."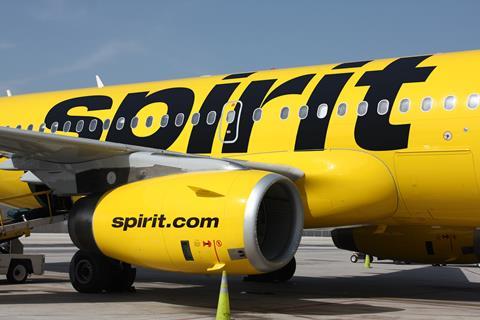 Spirit adds it will advise shareholders within 10 business days as to whether its board will support the offer.
Earlier in the day, New York-headquartered JetBlue launched another push to take over Spirit by urging the low-cost carrier's shareholders to vote against a planned acquisition by Frontier Airlines. JetBlue also revised its previous offer, and is now saying it would buy the airline for $3.3 billion, or $30 per share.
JetBlue had previously offered to buy Spirit for $3.6 billion. But in recent months, the value of Frontier's offer has declined due to a drop in its stock value.
Frontier and JetBlue have been fighting to acquire Spirit for months. On 7 February, Denver-based Frontier initially offered to buy Spirit for $2.9 billion in cash and stock. JetBlue responded in early April by submitting a competing bid.
But on 5 May, Spirit's board of directors rejected JetBlue's bid in favour of Frontier's offer. The Spirit board said a JetBlue-Spirit combination would likely be opposed by antitrust regulators, noting that JetBlue is already under regulatory scrutiny for its joint business in New York and Boston with American Airlines.
Spirit's shareholders are scheduled to vote on Frontier's proposed acquisition on 10 June.