Italy's transport and infrastructure minister Paola de Micheli has indicated the state is considering the possible of integration some Air Italy assets into its renationalised Alitalia.
Sardinia-based AIr Italy collapsed in February after shareholders could not agree on further investment to keep the struggling airline operational, though 49% owner Qatar Airways indicated its willingness to invest.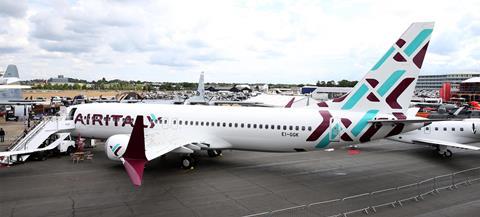 Since then Italy, amid the wider coronavirus crisis impacting air travel, has pulled the plug on its three-year effort to secure new private investors for national carrier Alitalia. In March it issued a decree outlining a plan to renationalise Alitalia, which has been in extraordinary administration since May 2017.
De Micheli met with liquidators of Air Italy, as well as representatives for the Sardinian and Lombardy regions - key Italian markets it operated in - to discuss the social impact of the airline's collapse.
"Minister de Micheli confirmed the imminent establishment of Newco Alitalia, the development of the objectives of the industrial plan and the assessment, in the context of this mandate, of a possible integration of some Air Italy assets with the new Alitalia," the transport ministry says in a statement following the meeting.
It add the assessment "will be up to the new company" and that the transport ministry and the regions would prepare an in-depth study of the industrial impact.
Much of Air Italy's fleet had been leased from - and since returned to - Qatar Airways. Liquidators for Air Italy had in March launched a tender for two packages of assets. That included an Aviation package, which comprises assets including the airline's AOC, traffic rights and airport slots – but no aircraft. The other package covers assets from its maintenance business.