Swiss has become the latest carrier to say that Covid-19 vaccinations will be mandatory for its air crew, citing the disruption to its hub network that could otherwise be caused by complications around rostering.
From mid-November, the Lufthansa Group airline's "entire flying personnel" will need to be vaccinated, "for operational reasons and under a duty of care to employees", the Zurich-headquartered airline says.
"We must initiate this action now if we are to continue to maintain our global route network and fulfil our obligations towards our employees," says Swiss chief executive Dieter Vranckx.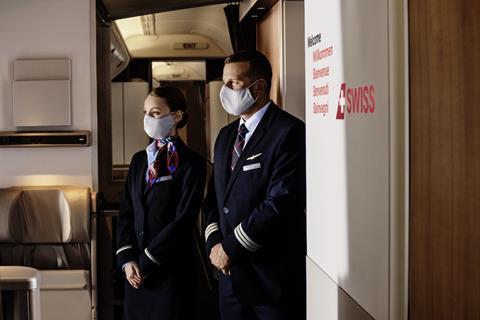 The Star Alliance operator points to the "increased complexity" of managing the rostering of crew amid Covid-related entry requirements for many of its destinations, adding that having unvaccinated pilots and cabin attendants would make it "impossible to ensure continued robust and reliable flight operations in the longer term" and would create "two crew categories" that would require "unequal treatment".
It particularly highlights Hong Kong, which is says has become its first destination to "demand proof of Covid-19 vaccination" for crews, with immediate effect.
"Some destinations and regions could no longer be served, and this in turn would seriously diminish the effectiveness of the Swiss hub system," it states.
The airline says its insistence on vaccination is "supported by corresponding provisions in the collective labour agreements for its cockpit and its cabin personnel", but adds that it is also conducting an "open and transparent dialogue with its social partners on the mandate planned".
Airlines including Cathay Pacific, Frontier Airlines, Malaysia Airlines, Qantas, Singapore Airlines and United Airlines have put similar vaccination policies in place in recent weeks, although other carriers have suggested they are unlikely to follow suit.