Pilots at Canada's low-cost vacation specialist Air Transat have accepted a new contract, clearing a path for them to return to work when the airline resumes service, now scheduled for 30 July.
The carrier's pilots' union, Air Line Pilots Association, International (ALPA), says on 12 July that 87% of voting Transat members accepted the agreement.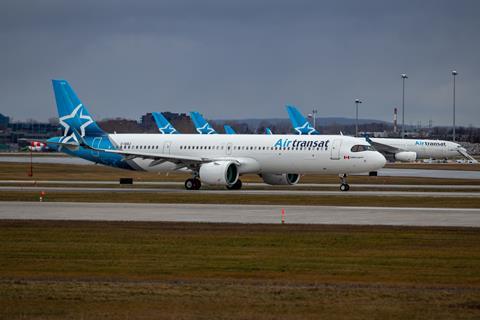 "Due to the Covid-19 pandemic, global travel restrictions and an extended negotiation between the government and our employer to secure much-needed assistance, this latest development is a positive sign for our members, and all Canadians, that a return to normalcy is closer than it has been since the beginning of the pandemic," ALPA says.
It does not provide details about the agreement.
"The first recalls of pilots have already begun in order to start their training — as the resumption of flights continues to increase with each step forward with regards to the easing of travel restrictions," the union adds.
The airline did not immediately respond to a request for comment.
Air Transat, the number three in Canada behind rivals Air Canada and WestJet, effectively shuttered operations in January as travel restrictions in Canada made it almost impossible to operate. In June, the Montreal-headquartered holiday package specialist said it lost C$69.6 million ($57.5 million) in its fiscal-year second quarter, which ended in April, and booked just C$7.6 million in revenue during the period.
In January, the Canadian government asked airlines to temporarily suspend flights to southern beach and resort destinations in the USA, Mexico and the Caribbean – places popular with Canadians during the country's long winters. That move devastated the carriers' usually lucrative spring break business, and Air Transat took a particularly harsh hit.
Also in January, the Canadian government required inbound air travellers to quarantine in approved hotels for at least three days after arrival, at their own cost.
That hotel quarantine requirement was lifted on 5 July for vaccinated returnees in favour of a more-rigid testing protocol and shorter home quarantines, as the country began taking tentative steps to re-open. But so far, only citizens and permanent residents are permitted to arrive in Canada.
There has been no indication of when the country will allow free movement for travellers making non-essential trips, or when it would once again allow foreigners to visit.
In April, Air Transat said it had reached an agreement to borrow up to C$700 million from the government to help weather the pandemic. Earlier in the month, cross-town rival Air Canada said it had secured C$5.9 billion in federal government funding.
Airlines have been clamouring for a clear path forward and comprehensive re-opening plan, but the government of Prime Minister Justin Trudaeau has released few details about how it hopes to return to normal.
The longest peaceful land border in the world, between Canada and the USA, has been effectively sealed for non-essential purposes since March 2020. It is scheduled to open on 21 July if the governments do not agree to again extend the deadline.
In May, Transat's long-time chief executive Jean-Marc Eustache retired from the company, and chief operations officer Annick Guerard replaced him in that role. Since then, Guerard has joined the chorus of other Canadian airline executives appealing to the government to relax coronavirus pandemic-driven travel rules, with little success.