Virgin Australia is on track to return to profitability in the year to 30 June 2023, two years after it left administration under owners Bain Capital, and as cost base restructuring efforts pay off.
While the carrier did not disclose its profit forecast, it says it has been able to shave off A$300 million ($190 million) in annual costs, thanks to a leaner cost base.
The airline entered voluntary administration in early 2020 at the onset of the coronavirus pandemic, in a bid to recapitalise its operations. It had been in a shaky financial state, having been in the red in the seven financial years prior.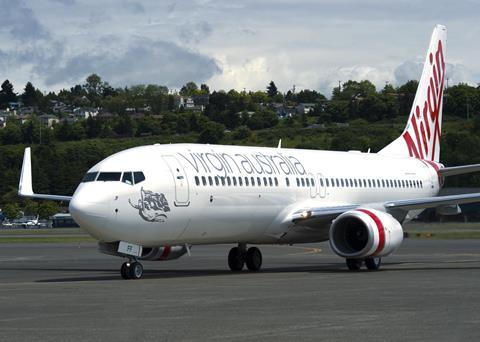 In June 2020, Bain Capital clinched the bid for the airline, paving the way for an overhaul of its business model.
By November 2020, Virgin Australia relaunched as a mid-market operator, eliminating all widebodies from its fleet and operating a fleet of Boeing 737s on domestic and short-haul flights.
Airline chief Jayne Hrdlicka says the airline has "only just touched the tip of the iceberg" in the two years since its relaunch.
She adds: "Confidence in our business strength and operation is at an all-time high. We have a strong balance sheet, some of the best management in the industry working on our ongoing business transformation and we're well advanced in returning to profitability this financial year."
The airline has increased its 737 fleet by over 60%, and has ordered 737 Max 8s and larger Max 10s for future growth.
Its latest disclosure follows months of travel woes within Australian airline sector, with operators unable to cope with a surge in travel demand following two years of the pandemic.
It has resulted in airlines having to pare back capacity through the end of the year in order to minimise any further operational snares.
Virgin's move to profitability also comes as compatriot and rival Regional Express disclosed that its mainline operations has turned profitable in September.
Rex launched jet operations with 737-800s in March 2021, though Covid-19 restrictions limited operations. The airline notes a strong pick-up in mainline traffic, and says it is also on track to be profitable in the current financial year.