Despite the immediate impact of the coronavirus on air transport, seating manufacturer Adient Aerospace – part owned by Boeing – is pressing ahead with the launch of a new lie-flat business-class seat for single-aisle jets.
Called Aspect, the seat was due to be unveiled at the Aircraft Interiors Expo in April, but following that show's postponement, Adient Aerospace has taken another tack, promoting via a "soft launch" directly to selected airlines.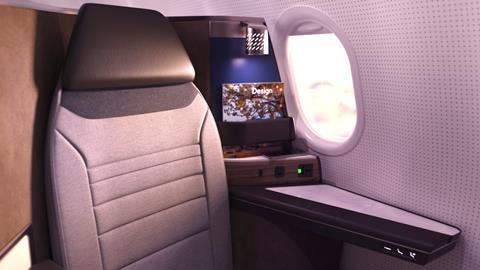 In fact, says chief executive Andy Masson, the company was "very mindful" of the state of its customer base and canvassed carriers about "whether to go to them with a new product at this time".
Although forecasts are that business travel is likely to be sharply reduced once flights return, Masson still feels that two related trends are in Aspect's favour.
Firstly, the coronavirus crisis is likely to accelerate the retirement of older long-haul jets – Boeing 757s and 767s, for example. In turn, these will be replaced by the arrival of highly efficient long-range narrowbodies such as the 737 Max 10 and the Airbus A321neo LR and XLR.
"As the market returns we think it only accelerates that [shift] and points towards narrowbody aircraft becoming very prevalent in future," says Masson, although he notes that "we have been asked for this single-aisle lie-flat seat for a while".
Masson says that Adient Aerospace could begin delivering the Aspect seat within two years. Although it has no orders in place, it is "already in advanced discussions with a number of potential customers".
He believes the seat can bring the "same level of comfort as on a twin-aisle" to the narrowbody sector, offering a lie-flat bed, no step-over aisle access and direct access to at least one window for each passenger.
Although there are elements of a business-class layout that align with social-distancing requirements, Masson stresses that the design is not a reaction to the pandemic. "It answers a lot of questions around privacy and separation that have been around for a while."
Adient Aerospace is majority owned by Boeing, with the remainder held by automotive supplier Adient. However, Masson insists the company is "platform agnostic" and will happily supply to Airbus operators if required.
The joint-venture's first product is the Ascent business-class seat which will be debuted by Hawaiian Airlines on its incoming 787-9s in 2021. Serial production of the initial shipsets is now under way, says Masson.
And despite co-owner Boeing's well-publicised financial troubles, Masson says that the airframer "remains extremely committed" to the joint-venture.
"They are very happy with the way Adient Aerospace is evolving and the products we have come out with," he says.