The body that represents airline caterers ran its first ever public information campaign this summer in an effort to convince travelers that on-board meals are safe.
"Normally we communicate business to business, but this time we decided to share our message with consumers to reassure them," says Airline Catering Association managing director Fabio Gamba.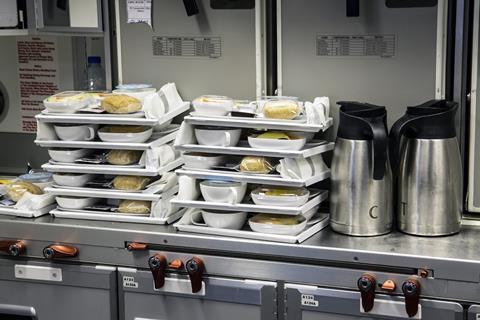 He maintains that airline caterers have been hit even harder than airlines by the crisis. "Airlines have relaunched services, but in many cases they have gone to minimum service, not including meals," he says. "The increased flights in the summer season gave us some oxygen when we couldn't breathe, but we cannot hide the fact that the mood is pretty low."
Hygiene standards among the companies that supply airlines are already high, but Gamba concedes that passengers may have to be convinced that there is a negligible risk of catching Covid-19 from airline meals or its packaging, and that is what the publicity campaign aimed to do, by stressing the steps suppliers take on food safety.
Hamish Cook, executive director of Windsor-based airline caterer En Route International, believes that, despite some short-term passenger concerns about eating on-board, full-service airlines will "continue to want to differentiate their product by offering an exceptional food and beverage service".
However, he maintains that some carriers may look to minimise the contact cabin crew have with food on board by offering more packaged items. "The use of smart packaging solutions that enhance an airline's brand is going to be critical," he says. "It not only provides the perception of immediate safety, but also reinforces the message that the whole food and service chain is managed."