UK-based lessor Falko Regional Aircraft has deepened its relationship with Embraer's urban air mobility (UAM) spin-out Eve, signing a letter of intent which could lead to a 200-unit order of electric vertical take-off and landing (eVTOL) aircraft.
In addition, the agreement covers the creation of a commercial partnership to "develop a global network of eVTOL operators in support of [UAM] missions".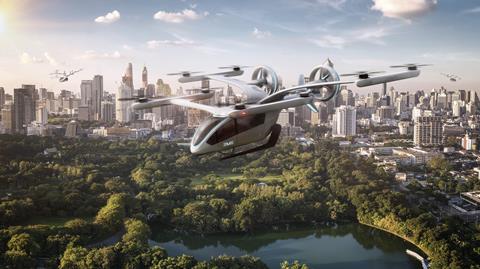 That foresees the establishment of a "working group" to collaborate with Falko's existing customer base to develop initial route networks "in early adopter markets" for Eve's eVTOL vehicle.
Eve's air transport management software, service capabilities and fleet operations services "will also be introduced to create a safe, scalable network for each Falko lessee using Eve's aircraft", the partners state.
"We are proud to have Falko as a strategic partner in Eve as our two organisations collaborate to lead a new generation of sustainable innovation in aviation," says Andre Stein, co-chief executive of Eve.
Eve is planning to list on the Nasdaq stock exchange through a merger with Zanite Acquisition Corp in a deal expected to close in the second quarter.
As part of that process, Falko is contributing to a $105 million investment in Eve. Its intention to order aircraft was flagged in December 2021.
Falko has previously invested in UK hydrogen-electric regional aircraft developer Electric Aviation Group (EAG) and has a non-executive director on the company's board. Falko also holds a controlling stake in wet-lease specialist CityJet, which has also invested in EAG.