Conversion specialists ST Engineering and EFW have delivered the initial Airbus A320 passenger-to-freighter aircraft to the United Arab Emirates' leasing and aerospace services firm Vaayu Group.
The aircraft will be sub-leased to new Indian operator Pradhaan Air Express, which is aiming to commence cargo services this year.
Pradhaan Air Express founder Nipun Anand says a second A320P2F will be inducted by the end of this year, and the carrier has "plans for further fleet expansion".
Powered by International Aero Engines V2500s, the twinjet was originally delivered to Brazilian operator TAM in 2006. It was subsequently flown by carriers including budget airline IndiGo.
ST Engineering's asset-management division owns the converted aircraft and is leasing it to Vaayu Group, one of several converted freighters that Vaayu intends to acquire.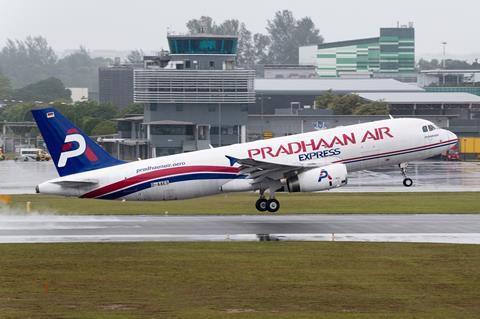 The A320P2F adds to a line-up of freighter conversions from ST Engineering and EFW which already includes A321s, A330-200s and A330-300s.
"With this redelivery, our Airbus P2F family of narrowbody and widebody freighters is finally complete," says EFW chief Jordi Boto.
As with the A321P2F, Airbus has supported the modification of the A320 through provision of original manufacturer's data.
ST Engineering says this means the design is "all the more robust and reliable". The aircraft can accommodate a payload of 21t, fitting 10 containers and a pallet on the main deck, and seven containers on the lower.
"Demand for converted freighters continues to surge," says Boto, adding that the freighter range will offer "excellent choices" to carriers looking for a "diverse fleet of freighter aircraft with operating commonality".
ST Engineering and EFW are aiming to increase annual conversion capacity to 60 slots by 2024, through the establishment of additional US and Chinese modification facilities.
Vaayu Group chair Emad Al Monayea says the A320P2F will provide an "efficient and credible freighter solution" to customers seeking to take advantage of forecast cargo demand.