Hydrogen-electric propulsion specialist ZeroAvia is co-operating with Shell affiliates which will design and construct commercial-scale mobile refuellers for the company's California test facility.
The agreement will support ZeroAvia's flight-test programme following the recent delivery of a Dornier 228 to the site.
This aircraft is to be fitted with the company's hydrogen-electric powerplant. It will complement work already being undertaken with another Dornier 228 in the UK, which ZeroAvia aims to fly for the first time in July.
Under the agreement, Shell will provide compressed hydrogen supplies to the US site as well as other locations in the western USA, increasing the scale of ZeroAvia's hydrogen airport refuelling eco-system initiative.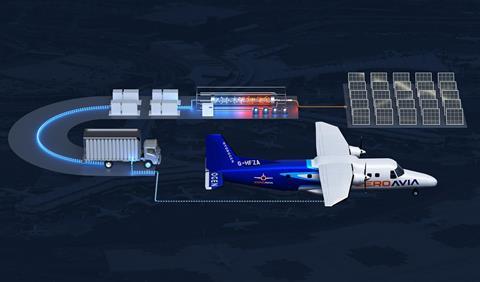 ZeroAvia says the project follows recent "positive predictions" on the falling price of hydrogen fuel, and US government advances towards establishing hydrogen hubs.
Shell is already a ZeroAvia investor. The company's hydrogen general manager, Oliver Bishop, says it believes ZeroAvia's technology is a "viable option".
"This agreement will allow us to demonstrate successful provision of low-carbon hydrogen supply while supporting development of codes, standards, and refuelling protocols for hydrogen-powered aviation," he adds.
ZeroAvia is also unveiling a 100m (330ft) hydrogen pipeline in Europe, running from landside to airside at the UK's Cotswold airport.
It will be used by ZeroAvia for demonstration and to explore operational safety of hydrogen refuelling infrastructure.