Russia's United Engine has initiated testing of a newly-assembled demonstrator core for the high-thrust Aviadvigatel PD-35 powerplant.
The engine – intended for future long-haul aircraft programmes – would be the first of its size, and have a thrust capacity similar to the Rolls-Royce Trent 900.
State technology corporation Rostec says the gas-generator demonstrator assembly was completed in mid-September.
"Gas turbine engines in the [350kN] thrust class have not previously been created in the domestic industry," it states.
The PD-35, which will offer a thrust range of 235-373kN, has been derived from the work on the PD-14 produced to power the Irkut MC-21-310.
Rostec says the development teams have been working to refine several "critical" technologies including the creation of new materials and coatings.
United Engine has carried out "intense" work over the last 18 months, it adds, to manufacture and integrate components, and produce the core for bench-testing.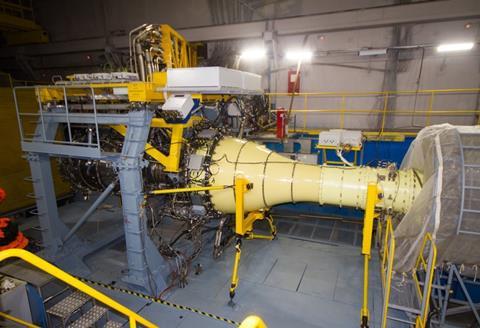 Various companies contributed primary sections including the high-pressure compressor rotor, the stator assembly, high-pressure turbine, drive mechanism and automatic control system.
Aviadvigatel managing director and general designer Alexander Inozemtsev says the gas generator has been installed on a test facility and stability checks have been carried out.
"The tests should confirm the basic performance of the design," he adds.
Russia's Central Institute of Aviation Motors is preparing a specialised test bench for a second round of tests during which the generator will be fed heated pressurised air to simulate operating conditions.