Rolls-Royce has reinforced its powerplant testing capability with a new UK facility which will support development of the manufacturer's UltraFan engine.
Designated 'Testbed 80' the indoor facility – costing £90 million and which took three years to build – is situated at the company's Derby headquarters.
It was used to carry out an engine run with a Trent XWB, the powerplant for the Airbus A350, earlier this year.
But Rolls-Royce says the facility, which will be the "new global hub" of its testing capabilities, will support the future development of UltraFan – an efficient high-thrust, high-bypass geared engine intended to slash fuel-burn for large aircraft.
"[Testbed 80] is not only big, it is also smart and features the most advanced testing technology we have ever used," says chief executive Warren East.
He describes the facility – featuring "distinctive" and "more capable" technologies than those at its other test centres – as a "very visible sign of our commitment" to the Derby site which, he adds, will remain the "home" of large engine development.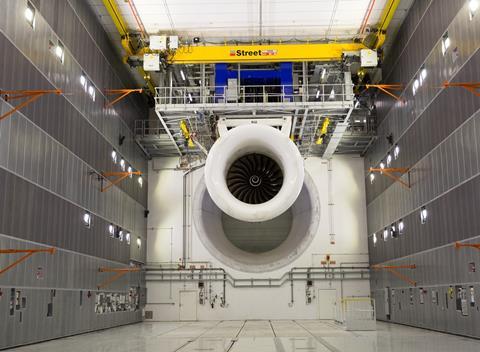 Rolls-Royce says the facility is also intended to support sustainable aviation fuel development, with a 140,000-litre tank for various fuel types.
Ground-testing of the UltraFan is set to commence with a demonstrator next year, and test runs will include use of wholly-sustainable fuel.
But the manufacture will use the facility to explore other powerplant developments including testing hybrid and all-electric systems.