Pratt & Whitney Canada has chosen a battery system supplier for its regional hybrid-electric flight demonstrator programme, tying up with Swiss specialist H55.
The engine manufacturer is engaged in a government-backed project – partnering with De Havilland Aircraft and Collins Aerospace – to create a regional aircraft, based on the Dash 8, with a propulsion system featuring a 1MW electric motor.
P&WC executive director for new products and services Jean Thomassin says the agreement with H55 will help optimise the design.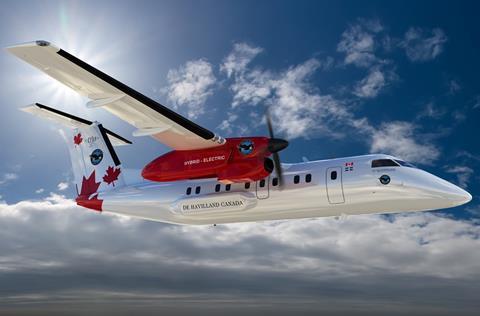 "Hybrid-electric technology holds significant potential to boost the efficiency of next-generation aircraft propulsion systems, allowing us to set new standards for sustainability for regional and commuter aircraft," he adds.
H55 is already involved in a similar Canadian programme, supporting development of the 'eBeaver', an all-electric version of the De Havilland Canada DHC-2 in co-operation with Magnix and Canadian operator Harbour Air.
"Our goal has always been to address regional commuter transportation and, with P&WC, there is a perfect fit whereby our core technologies complement each other," says H55 founder and executive chairman Andre Borschberg.
"Both companies share the same vision as to how hybrid-electric propulsion can offer a range of environmental and economic benefits."
Borschberg adds that the agreement with P&WC is an "important validation" of its experience by a "reputable industry player".
Canada's federal National Research Council will support development of the high-voltage battery's components and electrical control systems, while the Innovative Vehicle Institute will participate in design and integration on the experimental Dash 8.
Ground testing of the propulsion technology will begin this year, with the team aiming for a flight demonstration in 2024.