Rolls-Royce is confident that it can manage supply-chain issues in the face of macroeconomic uncertainties, and is maintaining its full-year financial guidance.
The company, which says overall financial performance so far this year has been in line with expectations, has not elaborated on which specific areas might be affected, although it has sourced materials including titanium from Russia for its engine blades.
"We are working closely with our global supply chain to limit the impact of disruption and will continue to adapt our plans as the global situation evolves," it adds.
"Our long-term sourcing agreements and hedging policies, designed to limit volatility in raw material inflation, give some near-term protection and we have increased inventory levels to help mitigate the impact.
"We are working with our suppliers to monitor and manage these risks and challenges."
Rolls-Royce has recorded a 42% increase in large engine flying hours for the first four months of this year, compared with the same period in 2021.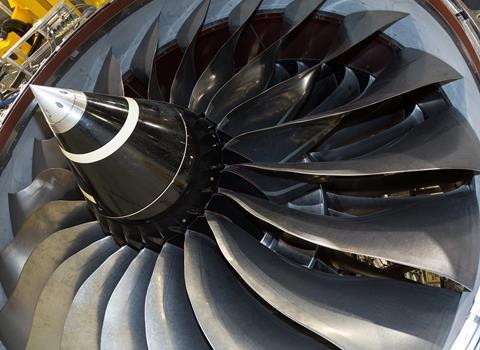 It gave the figure ahead of an event at its UK facilities on 13 May at which it will provide further detail on its civil aerospace business outlook, following the company's restructuring of its operations.
Rolls-Royce says it expects civil aerospace underlying revenues to grow at a "low double-digit" compound average rate from 2021, with operating margin percentage in the "high single digits". Trading cashflow will "comfortably" exceed operating profit, it adds.
Passenger demand is recovering on routes – such as those in Europe and the Americas – where travel restrictions have been lifted, the company says.
But it adds that the situation in China is "still evolving" and that further restrictions have resulted in fewer flights.
Business aviation flying hours have "remained strong", says the company, while it expects shop visits and original equipment deliveries to "accelerate" this year.
Outgoing chief executive Warren East says he is "confident" that the company is in position to "achieve positive profit and cash this year", following its efforts to reduce costs and the rise in civil engine flying hours.