Rolls-Royce has unveiled a proposal for a £2 billion rights issue, as well as a £1 billion bond offering, to recapitalise the company and underpin its balance sheet.
The 10-for-three rights issue will feature up to 6.4 billion new shares, at a discounted price.
Rolls-Royce has also agreed commitments for a new two-year term loan of £1 billion, conditional on completion of the rights issue. Shareholders will be asked to approve the rights issue on 27 October and the company expects the results by 12 November.
"We are undertaking decisive and transformative action to fundamentally restructure our operations, materially reduce our cost base and improve our financial position," says chief executive Warren East.
"By raising additional capital now, we will improve our liquidity headroom and reduce our level of balance sheet leverage, while supporting disciplined execution and investment to ensure we maximise value from our existing capabilities."
UK Export Finance is prepared to support extension of an 80% guarantee on the company's current £2 billion five-year loan, to cover a possible loan increase of up to £1 billion.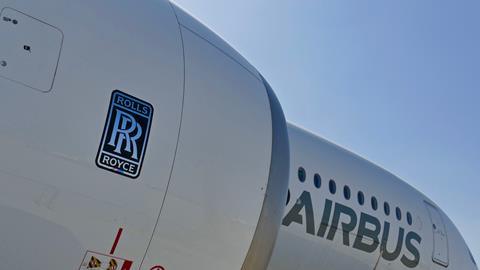 "Having considered a number of different scenarios – and, in particular a 'reasonable worst case' scenario – we have determined that it is in the best interests of shareholders to pursue the rights issue and bond offering now," says Rolls-Royce.
It says the aim of the financing programme is to improve liquidity, reduce leverage on its balance sheet, and support the long-term strategy of the company.
"These steps will provide the group with improved financial resilience and a more appropriate balance sheet structure in order to weather macro-economic risks before we return to strong cash generation," it adds.
It forecasts that this return will take place in 2022.
Rolls-Royce points out that it has already accomplished much of the heavy investment in its civil aerospace division, and that it expects its "relatively young" installed base of engines will provide strong cash-flow over the long term.
It says its outlook has not materially changed since it detailed its half-year results towards the end of August, adding that its civil aerospace and ITP Aero businesses have felt the greatest impact from the pandemic-driven air transport crisis.
"The pathway to strong cash-flow, however, remains dependent on the timing and shape of recovery from [the crisis], notably with regards to long-haul air travel," it states.
"There is significant uncertainty about the precise pace of this recovery and the possibility of delays remains a risk."
Rolls-Royce is pursuing the rights issue and bond offering because, it says, the board "considers it prudent to prioritise resilience and flexibility".