Swedish aircraft modification firm Taby Air Maintenance is preparing to start converting a Saab 2000 from passenger to freighter configuration.
The company, located in Orebro, says it is "finalising" the conversion project which will begin in the first quarter of this year.
TAM is modifying the turboprop for Miami-based launch customer Jetstream Aviation Capital.
The converted aircraft, designated the Saab 2000 Cargo, will have six loading bays in the fuselage – divided by nets – as well as the original regular passengers' cargo zones.
All the loading bays will meet 9g approval criteria, the company states.
Once completed the Saab 2000 Cargo will have a freight volume of 55.4m³ and a maximum payload of just over 6.6t.
Maximum payload will be limited to 3.4t for operation under US Part 135 federal aviation regulations.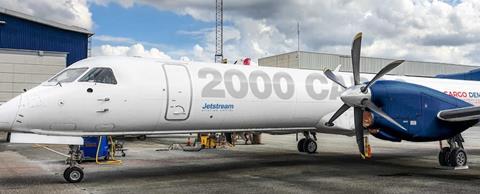 TAM says it intends to complete the aircraft, and secure US and European approval, by the end of March. It already has considerable experience converting the smaller Saab 340.
"We are very confident that we can meet any challenges to certify and convert this larger and highly-capable aircraft," says TAM managing director Par Gulle.
Gulle adds that Jetstream Aviation Capital is a "premium" customer with which TAM has a "long and very good relationship".
Jetstream's Donald Kamenz says the converted aircraft will offer regional freight operators the "best overall performance, cargo weight and volume value proposition on the market".
He adds that TAM is also looking to "enhance" the application of the Saab 2000's larger volume for US Part 135 and Part 121 operations.