Electric air taxi developer Vertical Aerospace has appointed Avolon chief executive Domhnal Slattery as non-executive chairman.
Slattery succeeds Vertical founder and chief executive Stephen Fitzpatrick in the role.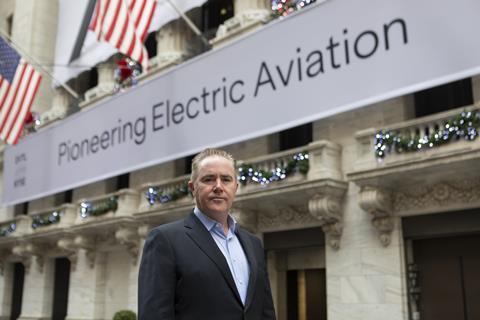 Vertical says Slattery brings "the experience to guide the business through the certification and commercialisation of its zero operating emissions eVTOL aircraft, the VX4." He had previously been acting as an advisor to the company.
Slattery will remain as chief executive of Avolon, the Ireland-headquartered lessor, which is a customer of, and investor in Vertical.
He says: "Vertical is in the vanguard of innovation in the global aviation industry, and I am delighted to have the opportunity to play a central role in its growth and development."
Vertical listed on the New York Stock Exchange last December, since when its shares have lost 21% of their value.
Its board now comprises Slattery as non-executive chairman; independent non-executive directors Kathy Cassidy and Gur Kimchi; non-executive director Marcus Waley-Cohen; and executive directors Fitzpatrick, chief executive Vincent Casey and president Michael Cervenka.