Could supply chain challenges and higher defence spending spur mergers and acquisitions? And, if so, who might be buying and what will be up for sale?
After a relatively sedate year on the aerospace merger and acquisition front, will a commercial aviation supply chain short of cash and struggling to meet demand spur marriages of convenience in 2023? Will growing defence budgets prompt opportunistic approaches in that sector?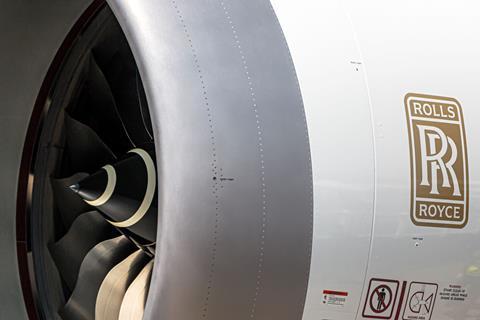 Will we see further takeovers among Top 100 companies after the 2020 mega merger of Raytheon with United Technologies units Collins Aerospace and Pratt & Whitney, and the smaller but significant amalgamations in 2022 of Parker and Meggitt, and Cobham with Ultra Electronics?
As we enter the New Year, there are few obvious signs of serious activity. Analysts have been talking up the likelihood of a Rolls-Royce takeover for years, and rumours the UK engine maker was for sale sparked a short-lived share price spike in March.
Lockheed Martin's swoop in 2022 for Aerojet Rocketdyne was more than a rumour, but the defence giant abandoned its agreement to acquire the propulsion specialist in February after US Federal Trade Commission opposition. It seems regulators have drawn the line on further consolidation in the US defence industrial base, for now at least.
However, on 19 December, L3Harris Technologies moved to buy Aerojet for $4.3 billion, with a deal expected to close during 2023.
The commercial aerostructures sector has been finding the recovery tough, with three of the biggest suppliers, France's Latecoere, and Spirit AeroSystems and Triumph in the USA, adopting different post-pandemic strategies as they look to rebuild and return to profit.
DIVESTMENT OPTIONS
Pennsylvania-based Triumph has been divesting businesses, including a Florida site to Daher, manufacturer of the TBM 940 and Kodiak 100 turboprops. The French company, which was already in aerostructures, had been keen to reinforce its tier one status with stateside customers including Boeing and Gulfstream.
That followed the 2021 sale by Triumph of three sites to a private equity buyer. A year earlier, Gulfstream took G650 wing production in-house after purchasing the line, and in 2019, TECT Aerospace (now owned by Boeing) bought a structures factory in Nashville.
After the 2021 divestments, chief executive Dan Crowley said Triumph "continues to execute on its transformation plan, divesting non-core businesses to enable debt reduction and reinvestment in new areas of opportunity". However, as the company returns to profit and prepares for a production ramp-up, it may have now ticked that box.
Spirit bought Bombardier's Belfast, Northern Ireland-based aerostructures business at the height of the pandemic in 2020. Since then, the Boeing-dependent supplier has struggled, recently recording a $128 million quarterly loss, its third deficit this financial year.
Wichita-based Spirit abandoned a long in gestation move to buy Belgium's Asco, which Swiss company Montana Aerospace picked up instead. The deal for the aerostructures specialist, which employs 1,000 staff across plants in Belgium, Canada, Germany and the USA, closed in April 2022.
Aerostructures and wiring group Latecoere, which also lost money in the first half of 2022, has continued to expand after sourcing additional capital. Its latest purchase, in November 2022, was Canada's Avcorp Industries, which makes structural parts for the Boeing 737 and Lockheed Martin F-35 among others.
Over the past two years, Latecoere has bought Spanish electronics supplier Malaga Aerospace Defence & Electronics Systems (MADES) and the Mexican plant of fellow French tier one supplier Figeac Aero, which it says have boosted its presence in the North American and defence markets.
The acquisitions, maintains the Toulouse-headquartered company, are part of a "2025 roadmap to achieve profitable growth and participate in global aerospace industry consolidation". On that basis, more takeovers could be on the cards for 2023.
Advisory firm PwC identifies a recent slowing in merger activity, including among so-called special purpose acquisition companies or SPACs. These organisations obtain a market listing with the aim of buying start-ups with promising or disruptive technologies. They were very active in 2021 in the commercial spaceflight and fast emerging electric vertical take-off and landing (eVTOL) segments.
SPACs own, or are heavily invested in, Archer Aviation, Embraer spin-off Eve, Joby Aviation, Lilium and Vertical Aerospace, although several of these saw their share values drop during 2022 as they strive to meet ambitious timelines to bring their platforms to certification, and introduce the world to the concept of urban air mobility.
PROGRAMME MATURITY
Several eVTOL developers are at similar stages of programme maturity, and have the necessary funding to certificate their designs. It therefore appears likely the next 12 months will see less SPAC activity as the market awaits to see which business models make it to the finish line. It is almost certain that not all of them will.
Another large aerospace player preparing to make big divestments, but not in its core market, is GE. The industrial giant is changing its name to GE Aerospace and spinning off its sister healthcare and energy businesses, a process it expects to complete by early 2024.
Part of the reason for the switch in nomenclature is an intention to expand in non-engine segments of aerospace, including in aircraft systems, currently a $3 billion business for the company. While it company is saying little about precise areas for expansion, do not rule out acquisitions as the now aerospace focused group raises a divestment war chest.