Joe Clark, aviation pioneer and co-founder of Aviation Partners (API), manufacturer of blended winglets used on many business and commercial aircraft, passed away on 30 March. He was 78.
Seattle-based API says Clark was passionate about aviation. "When Joe took off his jacket, you almost expected feathers to fall out," says company vice-president Gary Dunn. "The sky was his happy place. Being on the ground, selling cool products to improve aircraft performance was another. He could talk airplanes and efficiencies forever."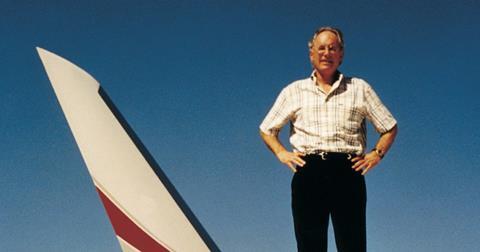 Clark was born in Calgary in Canada on 9 September 1941, but moved across the border to Seattle before he was a month old.
His passion for aviation began with flying lessons in college, and a trip to the 1964 Reno Air Races with his friend Clay Lacy - founder of one the oldest business aircraft services providers in the USA - aboard a Learjet 23 light business jet. "Clark said that event changed his career trajectory. From then on, it was locked on the sky," says API.
Two years later, Clark established Jet Air, the first Learjet dealership in the northwest, and in 1981 co-founded regional carrier Horizon Air, which later became part of Alaska Airlines, and Avstar.
Clark co-founded Aviation Partners in 1991 with long-time friend Dennis Washington. They hired "an elite team of aerodynamicists" API says, going on to market a blended winglet retrofit of the Gulfstream II. This marked the first of many Federal Aviation Administration-approved winglet retrofit programmes for API.
In 1997, a friendship with Boeing Business Jets president Borge Boeskov led to API winglets becoming standard on the VIP narrowbody airliner and cleared the way to the Aviation Partners Boeing joint venture, which successfully developed winglets for the 737NG, among other programmes.
API's blended and split-scimitar winglets are now installed on over 10,000 business and commercial aircraft, including the Dassault Falcon 50, 900 and 2000; Hawker 800 and 800XP; BBJ, 737, 757 and 767.
Clark "fervently" believed aviation could be a model for green innovation, says API. The firm credits his winglet designs for billions of gallons of fuel savings for the aviation industry, resulting in a global reduction in CO2 emissions of millions of tonnes.
"Joe found extraordinary joy in all things aviation," says Ed Bolen, president of the National Business Aviation Association.
"His legacy will long be visible on the thousands of business and commercial aircraft fitted with his winglets to increase performance and efficiency, while also reducing carbon emissions.
"Although Joe has left us too soon, his vision, passion and humanity will continue to take our industry farther and do so more sustainably."