Airbus is close to obtaining formal certification of the highest-weight version of the A330-800, after wrapping up flight-testing of the smaller A330neo variant.
The 251t maximum take-off weight version of the twinjet is likely to receive formal European Union Aviation Safety Agency approval around April, FlightGlobal understands.
Airbus had indicated, during a full-year briefing to analysts on 17 February, that the aircraft had been certified at the higher weight but this appears to have been a reference to the completion of testing, and paperwork has still to be finalised.
The airframer delivered 18 A330s in 2021 and it ihas a target to increase production to three aircraft per month at the end of this year.
A330 deliveries last year included 13 of the -900 version of the A330neo and a single A330-800, plus a private A330-300 and three military tankers based on the A330-200 airframe.
The A330-800 first flew in November 2018 and the basic aircraft was certified, with a maximum take-off weight of 242t, by the European Union Aviation Safety Agency and US FAA in February 2020.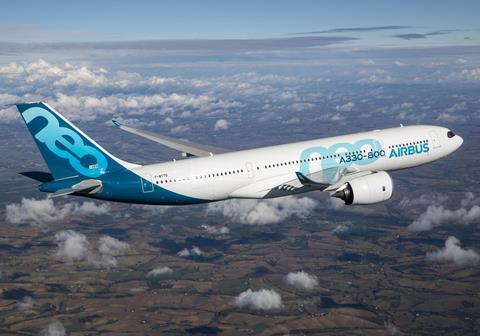 Two weeks after this approval Airbus started test-flying the larger A330-900 at a higher take-off weight of 251t.
The airframer aimed to extend the A330neo's range by around 600nm with the weight hike, stating that both the -900 and the -800 would have this same 251t capability.
Airbus secured EASA certification of the 251t version of the A330-900 in October 2020. It delivered the first to French operator Corsair last year.