Ezhou Huahu airport — touted as China's first "professional cargo hub" — has completed flight testing, paving the way for an eventual launch later in the year.
On 19 March, an SF Airlines Boeing 757-200 freighter landed at the airport, located in China's Hubei province, after a short flight from Wuhan.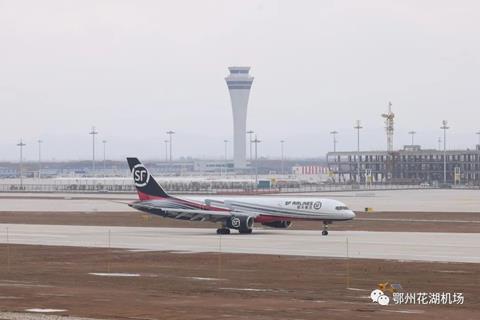 A WeChat post from the airport operator says the aircraft then flew on a four-hour flight from the airport before returning in the evening. It adds that the occasion marks the first time a freighter has been used in airport flight testing.
Ezhou Huahu airport is part of plans to build up a "dual passenger and cargo hub" in Hubei province, with the airport set to complement neighbouring Wuhan's Tianhe international airport, itself is a major passenger hub.
At the heart of the airport will be a 700,000 sq m (7.5 million sq ft) freight handling centre, along with 124 parking stands.
While the airport's focus will be on cargo operations, it will also have a smaller, 15,000 sq m passenger terminal. By 2025, the airport is intended to serve up to 1 million passengers annually, with cargo throughput expected at around 2.5 million tonnes.
Construction for the airport began in 2017, and its completion this year comes amid a surge in e-commerce and cargo demand globally.
It is unclear when the airport will officially commence operations, or which airlines are likely to fly from it.
According to Chinese media reports, the airport operator has previously indicated that the airport could start operating from June, with 10 international points and 50 domestic cities.