London Heathrow airport's operator is cutting jobs as it warns that the UK government's newly-introduced quarantine policy for arriving passengers is contributing to a situation in which employment levels cannot be maintained.
The controversial quarantine regulation, requiring 14-day isolation for arriving passengers, has been heavily criticised by airlines.
Heathrow's operator states that job levels are "no longer sustainable", adding that it has cut a third of managerial positions as part of a restructuring.
"We have now agreed a voluntary severance scheme with our union partners," says chief executive John Holland-Kaye.
"While we cannot rule out further job reductions, we will continue to explore options to minimise the number of job losses."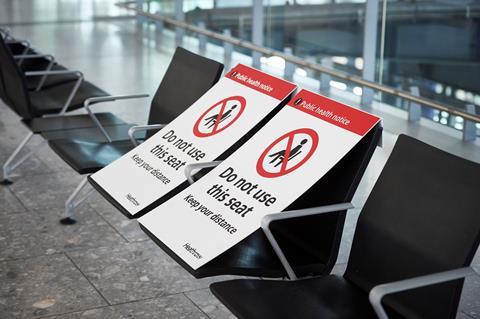 Heathrow remained desolate in May, with passenger numbers at the airport sinking to just 228,000 for the month, compared with 6.8 million in May last year.
Fewer than 6,500 flights operated against the previous figure of over 41,500. Although there was a rise in cargo-only traffic, overall cargo tonnage is down 40%.
Heathrow's operator says the government needs to establish "air bridges" to destinations with a low risk from the coronavirus, rather than pursue a blanket quarantine measure.